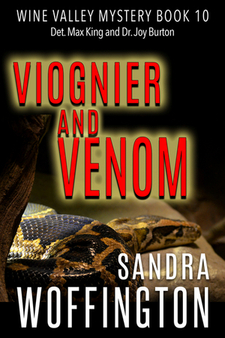 About Viognier and Venom by Sandra Woffington:
What wine pairs with murder? In wicked Wine Valley…all of them!
Snakes, venom, and murder.
When Detective Max King and his partner, Dr. Joy Burton, a forensic psychologist, answer a call, they find a body surrounded by a host of slithering, wriggling reptiles, and a sixteen-foot-long albino Burmese python coiled around the corpse's chest.
Sandra Woffington is a USA Today and Amazon bestselling author. Step into the wicked world of the Wine Valley Mystery Series. Viognier and Venom is on sale for 99 cents. Limited time offer.
Buy the book:
Author Bio:
Hi, readers! I love to create stories with pithy dialogue, gritty action, mind-blowing plots and unique characters–flawed, passionate, and sometimes disturbed.
I'm a USA Today and Amazon bestselling author. I completed the Humanities Honors Program at U.C. Irvine and earned my MFA in Creative Writing and MA in English from Chapman University.
My debut novel, Unveiling, a stand-alone, takes place in the colorful deserts of Saudi Arabia as well as America. It won Honorable Mention from the Writer's Digest SP book awards. Evil Speaks, the first book in the Warriors and Watchers Saga Series, a middle grade fantasy, was finalist (4th place) in the Reader's Favorite 5-star awards (that's out of all of the 5-star books in that category for the year!).
For more about me, please visit my website at SandraWoffington.com, where you can join my newsletter. Or join my Facebook Reading group Woffington's Reading Warriors: Mystery, Murder, Magic & More for updates and freebies. Or just follow me on Amazon or BookBub. I love to hear from readers!
Thanks for spending time with me! I hope you enjoy this book in the Wine Valley Mystery Series. Books 1-12 are Season One. I'm starting Season Two now.