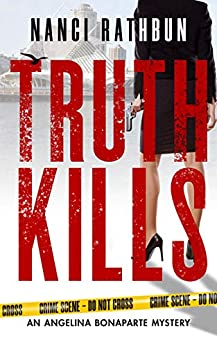 About Truth Kills: PI Angelina Bonaparte Crime Thrillers #1 (Angelina Bonaparte Mysteries) by Nanci Rathbun:
A murdered mistress. An accused mob boss. Can two detectives put their differences aside to find the real killer?Angelina Bonaparte is starting from square one. After a messy divorce, the middle-aged librarian put down her books and picked up a new gig as a private investigator. When a mob boss heads to jail for his mistress' murder, she has no issue with the womanizing scumbag rotting in prison. But when the suspect's pregnant wife swears his innocence, Angelina can't find it in her heart to refuse the case.Already reluctant to get involved, her frustration grows when she's forced to work alongside Ted Wukowski, a homicide detective who thinks a crime scene is no place for a woman. In the search for clues along the mistress' long record of broken hearts and promises, Angelina's natural charm is the perfect complement to her temporary partner's take-no-prisoners interrogation style. And before long, she and Ted can feel their grudging respect transform into an undeniable attraction. To solve the case and catch the murderer, the PI and the cop must learn to trust each other completely before an innocent man goes to jail for a crime he didn't commit…Truth Kills is the first book in the suspenseful Angelina Bonaparte Mysteries series. If you like clean mysteries, fierce female investigators, and whodunnits with a touch of snarky humor and a hint of romance, you'll love Truth Kills. Buy it today and ride along with a hard-hitting detective who's not afraid to reinvent herself!NOTE: This book has been previously published with different covers. Please check your library to avoid purchasing it twice.
Buy the book:

Author Bio:
Nanci Rathbun is a lifelong reader of mysteries – historical, contemporary, futuristic, paranormal, hard-boiled, cozy … you can find them all on her bookshelves. She brings logic and planning to her writing from a background as an IT project manager, and attention to characters and dialog from her second career as a Congregationalist minister.
Nanci grew up an Army brat, living in Germany, France and Korea, as well as several states in the U.S. After her dad retired from the service, the family settled in Milwaukee, Wisconsin. There, Nanci raised her daughter and son, while working at AT&T. She never expected to move, but when her second grandchild was on the way, she wanted to be closer. One of her greatest joys is hearing her three granddaughters shout 'Nana' when she comes in their front door in Fort Collins, Colorado.
Nanci's Maltipoo, Teeny, and she now live in Wellington, Colorado. No matter where she makes her home, she will always be a Green Bay Packers fan.