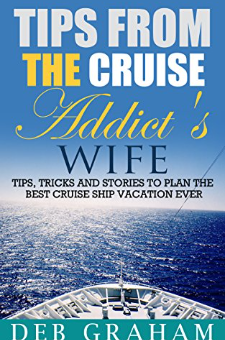 About Tips From The Cruise Addict's Wife by Deb Graham:
If you're planning a cruise or just dreaming of one, don't hesitate! Grab this informative best-seller! Tips From The Cruise Addict's Wife by Deb Graham is loaded with tips and tricks to plan the best cruise ship vacation ever! Easy read, laced with humorous stories you'll want to highlight, it'll make you the most-informed passenger on any cruise ship. All you need to plan your once-in-a-lifetime cruise vacation is right here. This is no stuffy travel guide; picture Fodor or Rick Steves with a sense of humor. Whether you're a first-timer cruiser or experienced passenger, you'll pick up common sense hacks and practical advice to see and do more while saving money. port days, spa, foodies, lazy days at sea, the best way to plan any cruise vacation is with this book. Wonder no more:Which cruise line is best for you? Where to go: Alaska, Mediterranean, Caribbean, Asia, or trans-oceanic? What to do in ports, and how to avoid touristy places? What to pack, what to avoid, what contraband can land you in a foreign jail? Should you choose a private tour or book a shore excursion? How to get a cabin upgrade or a visit from the Upgrade Fairy? What all is included in your cruise price? How to treat your cabin steward? Advice and tips for ports? How to get freebies onboard?Lucky you—my knowledge is right in your hand! Available in e-book, audiobook, and paperback Bonus chapter by the Cruise Addict himself. Don't miss the sequel: More Tips From The Cruise Addict's Wife
Buy the book:

Author Bio:
Lucky you– You found Deb Graham! Deb is the author of nine novels and fifteen non-fiction books, including four cruise travel guide books laced with stories about her innocent (so he says) husband, a book on how to write one's personal story, how to complain, and several cookbooks, science, and craft books for her eleven beloved grandchildren. Living in the Pacific Northwest, Deb enjoys travel, reading, cooking, and exploring new markets. You'll love her gently-haunted ghost stories, ideal for reading aloud. Cruise travel, vacation planning for Alaska and the Mediterranean, plus tips you can use on any trip. Tips From The Cruise Addict's Wife is a consistent best-seller. Along with More Tips From The Cruise Addict's Wife, you'll be the most-informed passenger on any cruise ship, while saving you a boatload of money. All that knowledge won't hurt your head: Deb's background in stand-up comedy spills into her writings. Leery of writing fiction for many years, Deb finds she enjoys novel-writing almost as much as travel books. Peril In Paradise, a cozy mystery set on (where else?) a cruise ship, takes you to Hawaii, with details rich enough to plan your own cruise. It's based on one of Deb's many cruises…minus the crime scenes. Murder On Deck is set in Alaska, on a cruise, and it's selling like crazy. The Cookie Cutter Legacy is a historical multi-generation story told by 95-year-old Henrietta. In the Dim-Witted Hitman, meet Dimmie, a reluctant albeit skilled hitman caught in a life not of his choosing. When his path collides on a cruise ship with the former mob boss he's been sent to kill, only one can leave the ship alive. Pick up a couple of haunted B&B stories with Thymes and Seasons and the Ghost in the Bakery for lazy evenings. You'll love the strong female characters in One Daughter at a Time and Martha's Cove.Deb's superpowers include: being able to spell-check and grammar-check with her brain, heading up the making of 1006 quilts for Project Linus; a quick mind that enables her to improvise on a dime; and her talent as a skilled bargain hunter, including being able to find name-brand items with store tags still on them in second-hand stores with laser focus. Deb loves travel, anywhere that involves a suitcase, or –better yet—a passport. She has three grown kids, and eleven grandchildren who are cuter than yours. It seems that many books' flyleafs tell that the author lives with a spouse and assorted cats. Deb Graham loves her husband, but sadly, has no cats.