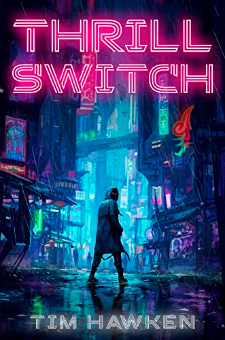 About Thrill Switch:
A cyberpunk thriller like Ready Player One meets The Silence of the Lambs
Detective Ada Byron is pumped to be assigned her first murder case–until she sees the crime scene. Someone has been killed exactly the same way as her father was seven years earlier. But, impossibly, he died using VR and the programmer responsible is still in prison.
To see if this is a copycat or something more sinister, Ada must confront her father's killer: the enigmatic Jazlin Switch. What she discovers will change the face of both the real world and the metaverse forever…
Buy the book:
Author Bio:
Tim Hawken is a literary hooligan from Western Australia who writes dark sci-fi and fantasy. He is a 2-times winner of the AHWA's Flash Fiction Competition, has been shortlisted for an Australian Shadows Award twice, and likes to add a twist of wicked humour to his work. His debut Hellbound Trilogy was a cult hit, which garnered attention from Hollywood, including being pitched to Netflix by producers for a series adaptation.
Tim has recently contributed to best-selling books such as Dear Santa, Dear Dad and Dear Mum, and released a literary fiction novel under the pen name T.S. Hawken.
Tim posts a 100-word, art-inspired story most days on Instagram (@tim_hawken). You can find more about him and his work at timhawken.com