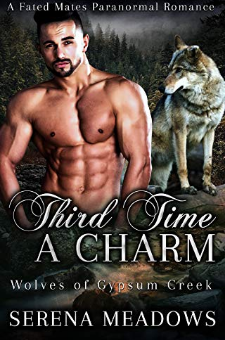 About Third Time a Charm: Wolves of Gypsum Creek:
A lone werewolf-shifter, banished by the villagers.
A young woman, with secrets to keep.
Their love is obsessive, all-consuming, and forbidden.
Abandoned by his mother as an infant, Jessie Rayburn has spent his life hiding out in the Appalachian ranges. He knows the rules: Avoid the villagers and keep his claws and fangs to himself. If the unspoken truce is broken, the villagers will shoot first and ask questions later. It's a cold and lonely life, but he has prey to hunt and a land that calls his soul. It's enough.
Until the day he scents her, and his blood is set alight.
She treads with the lightness of falling snow, too delicate to exist in his brutal world. His body draws tight as he follows her, but still he keeps his distance. She's beautiful, otherworldly…untouchable. Something to be watched and worshipped from afar—until the day she finds herself lost, vulnerable, and surrounded by evil. No man or weapon will keep Jessie from protecting her innocence and destroying those foolish enough to harm her.
But a tiny voice haunts him in the dark. What if his obsession is the greatest danger of all?
Breath-taking, passionate, and emotionally-driven, "Third Time a Charm" is the first book of the Wolves of Gypsum Creek series. Lose yourself in this world of supernatural romance, and order your copy today!
Buy the book:
Author Bio:
Serena Meadows has always been obsessed with writing short stories since she was in junior high school. She writes paranormal romance stories of all types but writing about sexy steamy alpha shifters is her passion. She lives in Denver with her two dogs. On her downtime (which is rare), she enjoys hiking and camping in the mountains or riding her bike with her own alpha male to keep her safe and warm. Typically she enjoys an evening curled up buried in a good book or watching Netflix. She also enjoys time with good friends.
Serena is excited to share her work with all of you and looking forward to interacting with her fans!
If you share her passion for big sexy bears and lean, steamy wolves, sign up for Serena Meadows newsletter to receive information about new releases, or how to join her review team!
https://prequel.serenameadows.com/