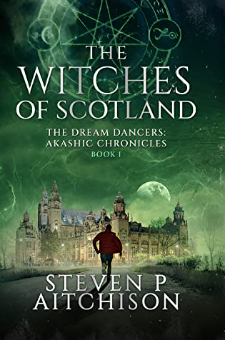 About The Witches of Scotland: The Dream Dancers: Akashic Chronicles Book 1:
It's one thing to read about witches, it's another thing to discover you are one.
When entitled Glasgow law student, David Hunter, learns he is from a long line of witches known as Dream Dancers, his life is turned upside down.
Now David has unwittingly exposed himself to a world of powerful witches, clandestine government agencies, and a fight to protect the consciousness of humanity.
He has to battle his inner demons before he can ever hope to become a true witch of Scotland.
If you love witches, magick, and conspiracy theories, you'll love the first book in this fast-paced supernatural thriller series.
Buy the book:
Author Bio:
Steven P Aitchison spent years teaching social media growth to internet entrepreneurs, then he moved on to teaching how to invest in cryptocurrencies before retiring to pursue his true passion: writing fiction.
His debut serial fiction work: The Witches of Scotland: The Dream Dancers: Akashic Chronicles is scheduled for a 9 book serial with books 1-3 already written.
Steven grew up in Wester Hailes, Edinburgh, before moving to Balerno and then onto Fife and settled in Glasgow to study Psychology. He currently lives in the West End of Glasgow with his wife.
No matter where he is, or what's going on, he tries his best to set aside time every day to answer emails and messages from readers. You can reach him at: authorsteven@stevenaitchison.co.uk
Don't miss a new release:
Click FOLLOW to get updates from Amazon.
** For a sneak peek at new novels, free stories, and more, join the email list at:
www.stevenaitchison.co.uk/fivechapters/
If you don't want to miss any Steven's news, you can:
Like the Steven Aitchison's Facebook page:
https://www.facebook.com/StevenAitchisonAuthor/
Follow Steven on Twitter:
Follow on TikTok
https://www.tiktok.com/@steven_p_aitchison
For more, please visit:
stevenaitchison.co.uk