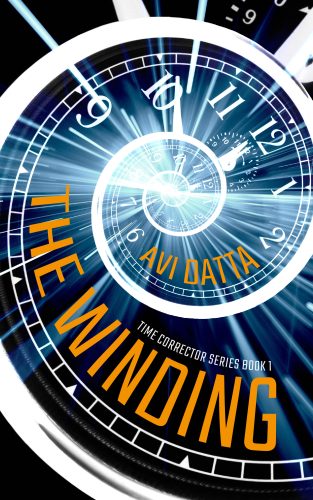 About The Winding (Time Corrector Series Book 1):
At the age of eight, Vincent loses his closest friend, Akane, to a time turbulence-a random rift in space and time. Thirty-two years later, she comes back as Emika to work for Vince. Everything changes after that as Vincent discovers that Emika is split between what she wants and what Akane wants from her.
Booklife, Kirkus, and Reader's favorite are calling this book "genre-bending", "engaging", and "an absolute must-read." Avi Datta's gripping debut novel redefines the parameters of the science fiction & Romance genre.
Buy the book:
Author Bio:
Dr. Avi Datta is the author of the genre-bending sci-fi series, "The Time corrector." The Winding (Readers' Favorite 5*) is his first novel in the series. He doesn't like to box his stories into one sub-genre. Instead, he challenges the core assumptions of causality and time are linear. Through that challenge he explores themes like loss, love, politics, fantasy, art, friendship, racism, alternate realities, artificial intelligence and many more.
He is a Professor of Strategy and Entrepreneurship at Illinois State University. He is an accomplished scholar in the areas of Radical Innovation, Management of Innovation, Technology Strategy, and Strategic Entrepreneurship. Outside his day job, he is a writer, an avid painter, a watch collector, and a coffee enthusiast who enjoys classic rock and western classical music.