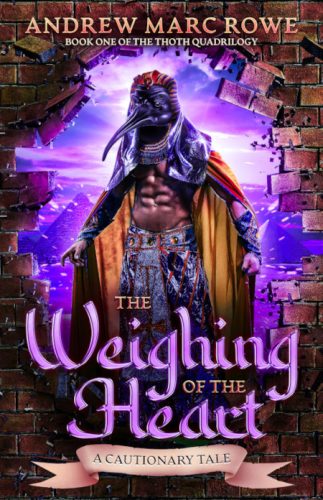 About The Weighing Of The Heart: A Cautionary Tale:
I Went To The Apocalypse And All I Got Was This Codpiece
Hey, it's me, your pal Thoth, ibis-headed ancient Egyptian god of writing and magic. Like any good narrator, I'm actually a part of this story. I've been infatuated with the bovine goddess Hathor since I can remember. The problem is, she wants nothing to do with me and my birdy self. I have my own way of dealing with rejection, but can you believe my brother Set is a frustrated incel who takes out his rage on the world? He's bent on the destruction of humanity! He even enlists the help of ancient mummified pharaoh Djet to set off a plague that reflects the depravity of his perverted soul…
Then there's Akins, nerdy human Scribe living in Thebes who finds himself caught in the middle of all of this. A man after my own heart, he's spent his life devoted to his craft and suddenly Set's insanity turns his world inside and out. He's gotta put up or… well, not shut up. More like he's gotta put up or die. Same goes for Water Lily, apprentice to the renowned Apothecary Safiya. She just wants to learn her trade in peace. But instead of customers and mortars and pestles, the former street rat finds herself to be the last bastion of hope in the struggle for the very world!
No pressure!
Buy the book:

Author Bio:
Andrew Marc Rowe moonlights as a wizard when he is not working his desk job as a lawyer. He lives in St. John's, Newfoundland, Canada, with his daughter Iris and a stable of unicorns. He likes long walks on the beach, getting caught in the rain, and betting the farm on insane cannibalism-related wagers with goblins. You can find him at andrewmarcrowe.com (sign up for his mailing list to get free e-books and e-mail lovin').