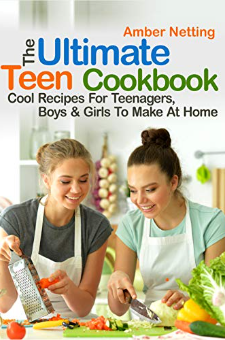 About The Ultimate Teen Cookbook : Cool Recipes For Teenagers, Boys & Girls To Make At Home by Amber Netting:
New universal cooking guide to making your teen life tastier and happier by yourself!
Feel hungry? No cooked food at home? No money to order pizza? Learn how to cook something delicious with only a few ingredients in the fridge! Stop depending on parents and start making your life better with The Ultimate Teen Cookbook! Surprise your friends with your lunch at school, throw the best parties with the most delicious snacks and drinks, and just enjoy food any time you want!
Our book offers you:
60+ easy and tasty recipes to satisfy all teens' food preferences
pantry and equipment guide with details and descriptions
nutrition facts for each recipe in case you are on a diet
vegetarian options if you don't eat meat
With this book you will learn how to cook basic recipes and even more:
knife skills and techniques to cut any food you have
cooking methods for preparing any dish you want
tips and mistakes for beginner, amateur, and even pro cookers
Whether you like cooking or not, you like delicious food! Stop starving and slobbering while dreaming about tacos, burgers, or cookies! Press BUY IT NOW and start your amazing journey to the culinary world!
Buy the book:

Author Bio:
Amber Netting, is an accomplished chef, cookbook author, food stylist, food consultant, and motivational speaker. She aims to help you gain confidence in the kitchen to cook nourishing meals in your everyday life!As Amber herself puts it: "Health and happiness go hand in hand, and how can you be happy if you're not eating what you truly desire?"