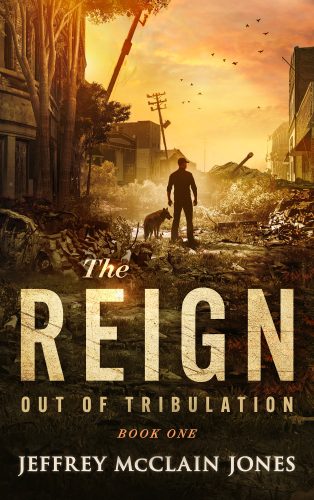 About The REIGN: Out of Tribulation:
"The war is over. A damaged world awaits healing. Will the self-proclaimed savior destroy and dominate … or restore and reconcile?
Rodney Stippleman gladly traded his weapons for a hammer and saw. After a catastrophic global conflict suddenly ended when the enemy's troops vanished, the weary soldier became a carpenter again, focused on rebuilding, rebuilding a demolished house and a shattered community. But he can't shake his battle-hardened skepticism when a new leader in Jerusalem arises, claiming to be the lord of all the earth.
Still wary when emissaries of this new ruler arrive to offer life-giving aid, Rodney struggles to believe they're not hiding something. And the newcomer's too-good-to-be-true presence threatens to plunge the land back into deadly conflict. He fears the marks of global trauma will jeopardize any hope for future peace.
Out of Tribulation is the mind-expanding first book in The Reign series of futuristic Christian fiction. If you like imaginative settings, modern-day moral questions, and light out of darkness stories, then you'll love Jeffrey McClain Jones's tale of global renewal."
Buy the book:
Author Bio:
Jeffrey McClain Jones is the author of twenty-three Christian contemporary fiction, Christian futuristic fiction and Christian women's fiction novels. He was born in Denver, Colorado and raised in Lincoln, Nebraska. He received a B.A. in biblical studies and creative writing from Houghton College, an M.A. in theology from Wheaton College Graduate School and a Ph.D. from Northwestern University. He currently owns, and works part time for, a computer consulting firm while writing novels. He and his wife, Lillian live in Vernon Hills, Illinois.