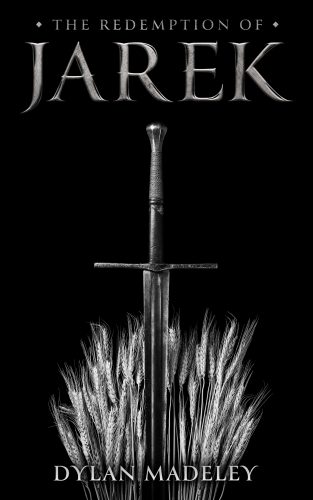 About The Redemption of Jarek:
The story is told in a three part structure, beginning and ending with the personal journey of the titular character.
Much of Jarek's youth revolved around making him fit for the throne, but one terrible day in adulthood finds him defeated, humiliated, and banned from the capital. He may only return upon complete surrender. Once home, he faces a trial by his commanders, though they are also fugitives by decree. Their land is a former province cut off from royal support, only kept free by the number of soldiers loyal to Jarek; but he swore to uphold the terms of his defeat, never to attack the capital.
As every illusion Jarek lived under is falling apart, he receives a visitor who tells him how the people of his land have suffered under his oblivious and unsustainable decision making. He faces a choice: drink himself to death while everything falls apart or change his land for the better. The latter might be impossible.
Just as he makes his choice, strangers arrive from a part of the world unknown to him, seeking a free and peaceful life, warning of a tyrant who pursues them. The story of their homeland is told in the second part. One man's insecurity combined with his greed sees him betray people who believed they were his allies. He desires a great empire that he wishes his father had pursued, but this drives his transformation into something else–or, the persistent appearance of something he can never truly be.
But his former allies have no time to consider why he did this to them, not that they are to blame. Those who survive will each lead their people in a form of resistance suitable to their ways. Some will take to the battlefield, seeking justice, or vengeance. Some will search for a new home, challenged to leave no one behind, but they may flee into the waiting arms of a different danger. And some will do another thing altogether.
And the third part brings everything together. What is Jarek willing to do? Will anything ever be enough?
Buy the book:
Author Bio:
Dylan Madeley is a Torontonian currently working out of a headquarters in Vaughan, Ontario. He is the copy editor of and a frequent contributor to Auxiliary Magazine, an alternative fashion and music zine. His first novel, The Gift-Knight's Quest, was released May 28, 2015. He has appeared at The Word on the Street Festival in Toronto, Canada's largest book fair, and successfully debuted his second novel, The Crown Princess' Voyage, at the Ad Astra convention in May 2017. He completed his trilogy with the official release of The Masked Queen's Lament in July 2018. His fourth book, Alathea: Goddess and Empress, was released in the disastrous pandemic month of May 2020; his fifth and sixth, Prince Ewald the Brave and The Fate of Lenn, were both released in 2021. His latest, The Redemption of Jarek, rounded out the series on December 15, 2022.