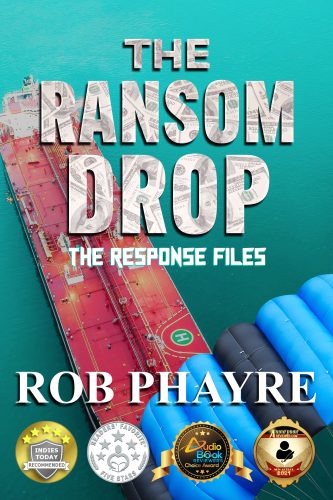 About The Ransom Drop by Rob Phayre:
FREE e-book download on Amazon until the 25th June 2022!
The Ransom Drop, a true to real life, military suspense thriller, that reveals the secrets behind negotiating with Somali pirates in a riveting page turner.
The Ransom Drop is book 1 in a brand new series and it's written by the guy who delivered some of the largest ransoms ever paid at sea.
Winner of the AudioBookReviewer.Com 'Reviewers Choice' award 2021.
Publishers Weekly 'Starred Review'.
Rob Phayre winner of the 'Best New Author 2021' from ABR.
Indies Today 5 star recommended!
Readers Favourite, Prairies Book Review and BookView – All gave 5 star reviews!
An oil tanker is hijacked by a novice band of Somali pirates.
It's an impossible problem to solve in one of the most remote and dangerous places on earth.
A team of experts are called in with one job to do; save the lives of the crew.
Can this 'A-team' do so? Can they prevent a massive environmental disaster, rescue the ship and its hundred million dollar cargo? There are reputations to be made, or lost…
Available as an audiobook, ebook, paperback and hardback where all good books are sold.
Buy the book:
Author Bio:
Rob Phayre has spent 18 years living in Africa, solving other peoples problems in some of the most insecure environments imaginable. From Somalia to the Sudan his experiences have provided fascinating storylines that are being brought into the open in The Response Files.