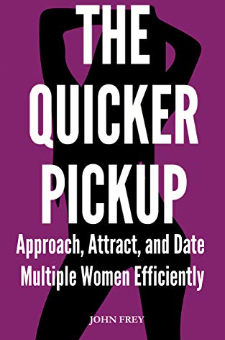 About The Quicker Pickup: Approach, Attract, and Date Multiple Women Efficiently:
Pure Pickup Made Easy!
Do you find yourself hopeless when it comes to approaching women?
Do you find yourself wondering why they don't see all that you have to offer?
Have you found yourself trying every tactic out there to no avail?
Most of us have been there…and some of us are still there. All we want is to make a connection with the women we desire, but it feels so overwhelming, so intimidating, that even when we do make the effort, we don't get the results we want. You've tried learning Pickup Art, you've tried honing your game, and you still aren't getting anywhere.
The Quicker Pickup provides an alternative to gimmicks, pickup lines, and pushy tactics. Through several concepts, condensed to a digestible format, you will learn how to make women see you in a completely different light. You will learn why women choose some men and not others based on factors that have nothing to do with looks, fame, or money. If you're looking to raise your confidence, your sex appeal, and date multiple women, The Quicker Pickup will provide all the information you need to get started.
No longer will you feel obsessed with women, build unhealthy attachments, or fear rejection. You will enjoy approaching women, interacting with them, and date several of them. You don't need to feel desperate…you don't need to be afraid. You have everything you need to attract and date beautiful women…you just need to harness it!
Start the Quicker Pickup and change your love life today!
Buy the book:
Author Bio:
Author of, The Cheat Code: A Manual For Men," book series, and, "The Quicker Pickup: Approach, Attract, and Date Multiple Women Efficiently," John Frey writes personal growth books for men. In an effort to help men aspire to and reach greater heights, his books are written with an eye on raising confidence, achieving goals, and celebrating masculinity. John Frey is passionate about one thing…pushing men beyond their own expectations!