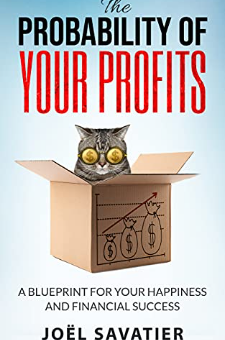 About The Probability of your Profits: A Blueprint for Your Happiness and Financial Success by Joel Savatier:
Do you struggle with money? Whether it's saving it, spending it wisely, or even how to make it grow?
When was the last time your paycheck made it all the way through the week? Or better yet, all through the month? Can you recall the last time you weren't stressed over how much debt you are in? What about your job? Ever found yourself wondering whether this is what you were meant for, or do you feel that you should be following another path?
For a lot of us, money is a tricky subject from making to spending it, saving it, and even making it grow. Every day we are faced with money decisions, and even when it seems simple enough, we still end up making the wrong ones. How many times have you ordered something, knowing you don't have the cash for it? It's something we are all guilty of. So why are we like this? Why are so many bad at handling money?
It's simple. We don't truly understand our relationship with money, and as such, we tend to mishandle it a lot. Read that as having no control over it. Shockingly this lack of control stems from not having the right education, and this tends to color how we perceive money.
The Probability of your Profits – A Blueprint for Your Happiness and Financial Success, you will learn:
The missing connection in creating the right foundation with your finances
How to develop a more positive outlook on money
How to deal with the habits that keep you from improving your financial freedom
How your relationships and finances are linked
Picking the right path for you between employment and entrepreneurship
How to properly leverage your money and get it to work for you
The Probability of your Profits will reshape the way you think about your finances and give you the skills you need to change your relationship with it, whether you are simply looking to get more control over your financial situation or looking for ways to put your money to work.
Buy the book:

Author Bio:
Hello my Name is Joel Savatier, I am from France however I am now based in the London, United Kingdom. My field is Business and Finance. Being an accountant over the years has given me a chance to meet and work with many people from all walks of life and I love it, Why? you ask well because I get to play a part in helping people fix their financial state by sharing knowledge and offering advice.
I have a team of accountants that I work with on a daily basis and collectively our aims are to aid, empower and change how people think and relate to their finances and the relationship that they have with their finances.
This encouraged me to explore and research further. I want to leverage my expertise to help as many people as I can to attain better financial states. It spurred me to write this book to help.
When I am able to find time away from my duties I enjoy pursuits such as swimming. rock climbing. writing poetry, dancing, painting, cycling, cooking plus so much more, im telling you the list is endless.