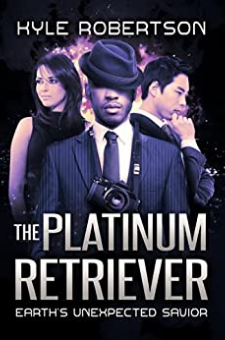 About The Platinum Retriever: Earth's Unexpected Savior by Kyle Robertson:
A Private Investigator has to Investigate a Very Different Case This alien invasion tale has a very different premise. Yes, they have xenomorph DNA, but they were indigenous to Earth. This adventure gets much deeper than the normal. Daedalus Platinum was a private investigator for children who never received their child support. The reason for his diligence was his father died before he was born, and his mother died during his childbirth. This made him an immediately orphaned only child. His parents never got a chance to care for him, so why should a living neglectful parent have that choice? One day his police contact sopped helping him. He found out why. There was a much more important police matter at hand. People were being disintegrated! Detective Sandoval told him to stay out of it, but if this disturbance was stopping his only lead giver, he had to participate. He had to get his leads in order to eat. What he discovered went way deeper than a routine murder case. The people were being disintegrated by aliens! Well, not aliens. Xenomorph/human hybrids was more appropriate. Follow Daedalus Platinum, Detective Barret, and Detective Sandoval on a wild adventure of saving Earth in The Platinum Retriever: Earth's Unexpected Savior.In this science fiction alien invasion thriller, you'll get:Wild action, intrigue, and adventureAnother concept of aliens invadingMartial artsAn ethnic mix of heroesElements of death and bereavement to drive the storyCertain military aspectspFind how these heroes battle the Arizona heat, and world domination in The Platinum Retriever: Earth's Unexpected Savior
Buy the book:

Author Bio:
Kyle R. Robertson was born in Baton Rouge Louisiana on January 1, 1970. When he was young, his mother told him that everyone on Earth was celebrating his birthday. Then he grew up, and learned the truth. At least his mother thought he was special. He has kept that feeling from his mother all his life. Kyle grew up an only child, and had no siblings to play with. When he was 3, and moved to Milwaukee Wisconsin from Baton Rouge Louisiana, he had no cousins to play with anymore. He learned early that you had to use your imagination to stay interested in life. He gathered many friends, but only two real friends. The two were gained at high school level, Jeff, and Jamie. Jeff has stayed with him ever since, and Jamie stayed with him until he tragically passed. Kyle was always an entertainment buff. Movies, books, music, art, you name it, After his stint in the military, he became a master of sales. He knew over 800 electronic consumer devices, and had other salesmen asking him obscure histories of products. He stayed with sales most of his life. From car audio, luxury vehicle sales, and home maintenance equipment. He became a trainer at that vocation, but he always wanted to entertain. He was stricken with Diabetes, and lost most of his sight, but Diabetes kept going. He lost his kidneys, and couldn't work anymore. He was lucky to get a transplant He became fidgety because he was used to 16 hour days. He had to do something, so he began to write stories from the characters he made up in high school. Thus began his writing career.