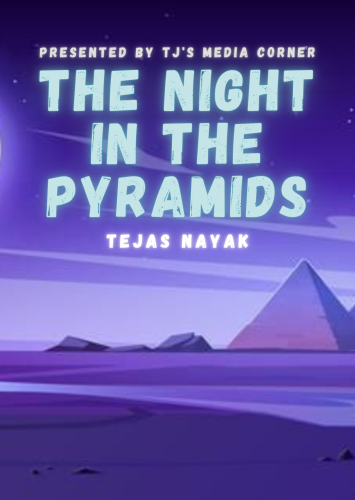 About The Night In The Pyramids:
Alex Branwood and Jessica Thompson are two different individuals who come to The Pyramids of Giza for different reasons.
However, fate brings them together again and again. And finally they both got locked inside The Pyramids of Giza at night.
According to the rest of the world, the pyramid is just a normal one.
But the truth can only be known by those who enter the pyramid at night.
Because that is the time when the creatures in the pyramid come back to life.
Alex and Jessica are in a situation where survival is extremely difficult.
Mummies, large spiders, Pharaohs and what not? A dangerous and action filled adventure awaits.
Buy the book:

Author Bio:
Hello, fellow readers and authors. I am Tejas Nayak AKA TJ's Media Corner. This is my first book and I'm quite happy to have successfully published it. Please read, support, recommend to others and encourage me to write more such amazing books by writing reviews on the book stores : Amazon, Google Play Books, Barnes and Noble, etc. Thanks for reading.