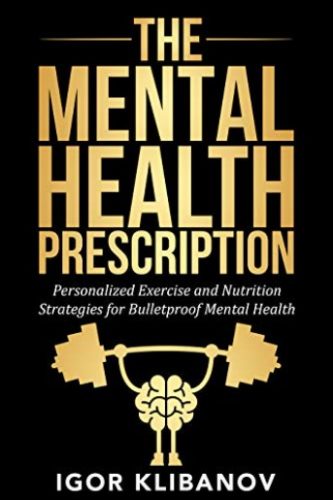 About The Mental Health Prescription: Personalized Exercise and Nutrition Strategies for Anxiety, Depression and Stress Relief by Igor Klibanov:
You're probably considering this book because you're struggling with mental health. Maybe it's anxiety, maybe it's depression, PTSD, or something else. Or perhaps, you have friends or family members with these conditions. Or perhaps you're a health/fitness professional, wanting to help your clients or patients. If so, then this book is for you.
In this book, you will learn:
Anxiety and depression nutrition guidance: what to eat, and what to avoid eating to improve the symptoms of anxiety and depression.
The benefits of exercise for mental health
The anti anxiety food solution (2 very common drinks that you may be consuming, which could be making your anxiety worse… or possibly even being the root cause).
The connections between mental health and nutrition
How to improve your mental health naturally (using exercise, nutrition and supplements)
Does exercise help anxiety? Only if you use the right intensity (and it's not high intensity). Find out why in this book.
Exercise and anxiety: what's the right exercise prescription (type, duration, frequency and intensity)? Get this wrong, and you could make your anxiety worse.
The most effective natural supplements for depression.
The most effective anxiety supplements for anxiety
Two common conditions frequently misdiagnosed as anxiety and depression
…and so much more.
Buy the book:
Author Bio:
Igor Klibanov was selected as one of the top 5 personal trainers in Toronto by the Metro News newspaper on June 3, 2010. He is the founder and owner of Fitness Solutions Plus, a personal training and fitness/health education company.
Igor began training in martial arts at a young age, and enjoyed learning about movement and the human body enough to pursue a degree in kinesiology and health science from York University. Graduating in 2009, he worked as a personal trainer for a country club and community centre, before founding Fitness Solutions Plus in early 2010.
Currently, only 3 years since founding Fitness Solutions Plus, he has been able to train a number of local TV personalities, CEOs of well known organizations, and delivered fitness education seminars at many well-known companies, including Investors Group, Sunlife, Soberman LLC.
Igor strongly believes in continued education, and at the time of this writing has the following qualifications:
* B.A. (Specialized Honours) kinesiology and health science
* Ontario Kinesiology Association (OKA) Certified Kinesiologist (CK)
* Biosignature Practitioner
* Certified Trigenics Trainer (CTT)
* Canadian Society of Exercise Physiology (CSEP) Certified Personal Trainer (CPT)
* Can-Fit-Pro Personal Trainer Specialist (PTS)
You can learn more about Igor and his company, Fitness Solutions Plus at https://www.fitnesssolutionsplus.ca/
To book Igor as a speaker at your event, please email him at Igor@TorontoFitnessOnline.com.