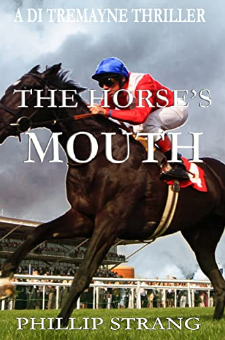 About The Horse's Mouth (A DI Tremayne Thriller Book 9):
A day at the races for Detective Inspector Tremayne, idyllic at the outset, soon changes. A horse is dead, and then the owner's daughter is found murdered, and Tremayne's there when the body is discovered.
The question is, was Tremayne set up, in the wrong place at the right time? He's the cast-iron alibi for one of the suspects, and he knows that one murder leads to two, and more often than not, to three.
The dead woman had a chequered history, not as much as her father, and then a man commits suicide. Is he the murderer, or was he the unfortunate consequence of a tragic love affair? And who was it in the stable with the woman just before she died? There is more than one person who could have killed her, and all of them have secrets they would rather not be known.
Tremayne's health is troubling him. Is what they are saying correct? Is it time for him to retire, to take it easy and to put his feet up? But that's not his style, and he'll not give up on solving the murder.
Buy the book:
Author Bio:
Phillip Strang, an avid reader since childhood, was born in the late forties in England.
In his early twenties, the author, with a degree in electronics engineering, left England for Sydney, Australia.
Now, nearly fifty years later, he still resides in Australia, although many intervening years spent in a myriad of countries, some calm and safe – others, no more than war zones.
The author of thirty-one books, the majority of them crime thrillers based in the United Kingdom, he has also written several books on terrorism and one on a pandemic.