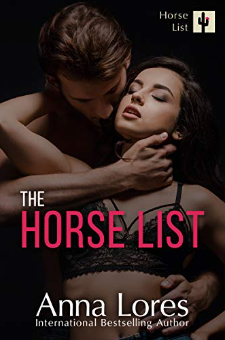 About The Horse List:
She wants a partner for a sensual journey. He wants a wife. Will completing secret list of wishes give them both what they want?
As her abusive ex-husband stalks her, Ava Black counts the days until she moves to her hometown. While keeping her facade of a normal life, she attempts to complete a special, secret list of desires before she leaves town or she may never have another opportunity.
Steamy billionaire Eric North could be the perfect partner, but she'd have to trust him to protect her heart and body…
The Horse List is the first book in the dark, suspense-filled, sensual romance series. If you enjoy a plot-twisting story that draws you in, and a special wish list that keeps you up at night, then you'll love Anna Lores' Horse List trilogy.
Buy The Horse List and start a new steamy and suspenseful escape from real life today.
Buy the book:
Author Bio:
An avid romance reader, Anna Lores started writing steamy romance novels as a by-product of insomnia. One night, with a nudge from her husband to write a book, Anna borrowed her son's laptop and set about breathing life to her very own characters. After a month, she was surprised with a new laptop of her own to pursue her dreams of writing sensual happily ever afters.
The desire to fill her world with wonderful stories she and her close friends could not just talk about but gush over, keeps Anna's fingers racing to keep up with her imagination. As the rest of the house is sleeping peacefully, Anna sheds her title as Supermom of Three to write sexy love stories.
Sleeping might still be a battle Anna hasn't conquered, but armed with a B. A. in English Literature and all the hot men in her mind calling for their own story, she stays busy during those midnight hours writing her next international bestselling spicy romance.
Curious what Anna Lores is working on? Visit her at https://www.AnnaLoresAuthor.com and sign up for updates on her upcoming steamy romance novels.
"Recommended to fans of erotic romance." Majanka, Goodreads reviewer
"Wow. HOT HOT HOT…. my Kindle is smelting." Laila, Goodreads reviewer
"The author has done a fantastic job with this sexy romance book." – Julie Barrett, Goodreads review
"It was an amazing read. Could not put it down once I started reading." – Wendy, Goodreads reviewer
Follow Anna on:
Instagram: www.instagram.com/AnnaLoresAuthor
Twitter: www.twitter.com/annalores
Facebook: www.facebook.com/annaloresauthor