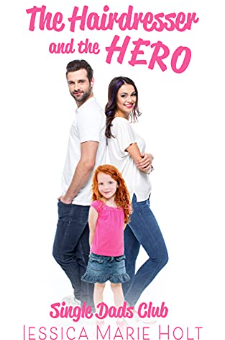 About The Hairdresser and the Hero: Single Dads Club Romance — Book One by Jessica Marie Holt:
When a former soldier needs a little help with his spunky daughter, a hairdresser comes to the rescue, and sparks fly. Can he make space in his heart for her? Can she open her heart to him?
Buy the book:

Author Bio:
Welcome to my little corner of the world! Pull up a comfy chair and stay a while.
I love well-told stories with heart, humor, and warmth, so those are the kinds of stories I write. And I love characters who stay with you–people who are so layered, flawed, and well-detailed that you could swear they were real, and you'd met them before. So, those are the kinds of characters I try to bring to life.
Each of my books is an invitation to settle in, grab a blanket, and make a new friend or two as they go on an interesting life journey. When you your favorite characters, let me know who they are! Happy reading!