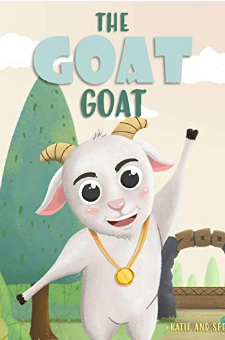 About The GOAT Goat:
★Goaty the Goat is new at the zoo and can't wait to make friends with all the other animals!★
As he journeys through his new home, he learns that every animal has a special talent that has earned them a medal.
Join Goaty as he discovers his own special talents and learns that everyone is awesome in their own unique way!
Scroll up and click Read Now or Buy Now to join Goaty on his adventure!
Buy the book:
Author Bio:
Katie and Spencer Turner are young professionals, parents, and the authors of the new book "The GOAT Goat". They live in Ontario, Canada with their little family of two young boys and their coonhound dog. As a military family, they feel it is important to create stories that teach children to be themselves when meeting new people, a common occurrence with a military lifestyle. When Spencer is not creating Lego masterpieces and Katie isn't baking cupcakes, they enjoy spending their time outdoors, playing hide and seek, and building snowmen.