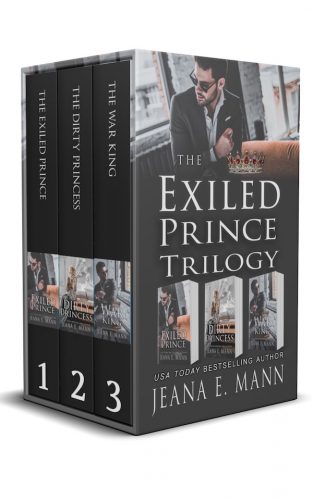 About The Exiled Prince Trilogy:
TRILOGY COMPLETE! A secret masquerade hookup leads to complications with Rourke's new boss. One night. No names. No faces. It should have been simple. Now she's deep into a world of corruption, sin, and secrets with the Russian mafia prince known as The War King. A spicy dark romance from USA Today bestselling author Jeana E. Mann.
Buy the book:

Author Bio:
Jeana is a USA Today bestselling author from Indiana. She gave up a career in the corporate world to write about sexy billionaires and alpha bad boys. With over twenty books, three series, and several awards beneath her belt, she's never regretted her choice to live out her dream. She's a free-spirit, a wanderer, and loves animals with a passion. When she's not tripping over random objects, you'll find her walking in the sunshine with her rambunctious dogs and dreaming about true love.