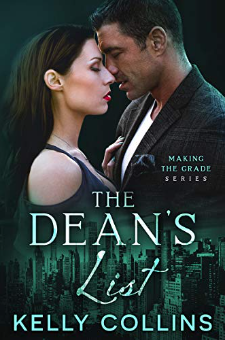 About The Dean's List (Making the Grade Series Book 1) by Kelly Collins:
She's a high-class escort. He's a heartbroken client. Falling in love was never in the contract…Grad student River Roberts is at the head of her class. But outside of the lecture hall, she's struggling to make ends meet. Refusing to let her diploma slip through her fingers, she joins a secret student society that caters to the wealthy alumni's deepest desires. But when she starts to fall for a handsome client, she realizes she never factored in the price her heart would pay.After his wife's death, Jonathan Ferris fills his waking hours with high-powered acquisitions and commodity trading. But no amount of cold hard cash can keep him warm at night. Consumed by loneliness, he turns to his alma mater's escort service. But his passionate encounters with a co-ed who's as smart as she is sexy make him wonder if there's something more between them than money.With graduation fast approaching, can River and Jonathan see past the price tag and open their hearts to true love?The Dean's List is the first standalone novel in the steamy Making the Grade romance series. If you like secret societies, sizzling sex scenes, and forbidden love affairs, then you'll adore Kelly Collins' irresistible read.Buy The Dean's List to enroll in a sultry secret romance today!
Buy the book:
Author Bio:
Like FREEBIES? Join the VIP readers at http://bit.ly/KellyCollinsFreeBook for members-only exclusives! ~ Tip: Just hit "FOLLOW" for notifications about deals & new releases! ~International bestselling author of more than thirty novels, Kelly Collins writes with the intention of keeping love alive. Always a romantic, she blends real-life events with her vivid imagination to create characters and stories that lovers of contemporary romance, new adult, and romantic suspense will return to again and again.You can learn more about Kelly at www.authorkellycollins.com.