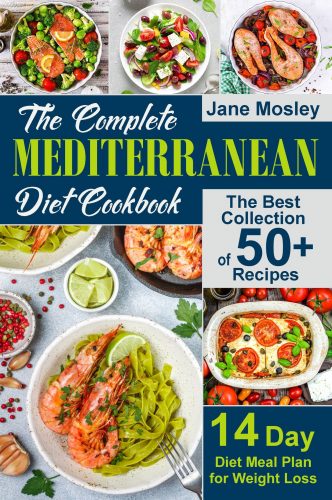 About The Complete Mediterranean Diet Cookbook: The Best Collection of 50+ Easy Mediterranean Recipes and 14-Day Diet Meal Plan for Weight Loss:
Are you thinking about losing weight?
Do you want to do it in a healthy way, still eating great food and enjoying mealtimes?
Have you considered a Mediterranean diet?
The Mediterranean diet has long been hailed as one of the world's healthiest with its concentration on fruit and vegetables, nuts and seeds, fish and with just the occasional addition of red meat. This diet has meant that people in the region enjoy better health for longer, without sacrificing any of the taste that we all enjoy.
Now, in The Complete Mediterranean Diet Cookbook, you can adapt your lifestyle to eat well and still lose weight, with chapters that include:
An overview of the Mediterranean diet
History and origins of the foods eaten in the region
The health benefits for you
Shopping list of essentials to get you started
A 14-day diet meal plan
Recipes for breakfasts, lunches and dinners
Snacks and desserts for when you want to treat yourself
And lots more…
With more than 50 stunning recipes to choose from, that are all easy to make and affordable too, The Complete Mediterranean Diet Cookbook promises to help you not only lose weight and be healthier, but also to enjoy the food you are eating and the process of making it.
Suitable for anyone who is keen on good food but has struggled to find the right sort of recipes to make their weight loss journey a reality, this is one book that delivers exactly what it promises to!
Buy the book:
Author Bio:
Hi, my name is Jane – welcome to my page, and thanks for stopping by!
I grew up on a Mediterranean diet and knew firsthand about it.
I am a nutritionist, writer, consultant, recipe maker, and a Master of Science in Nutrition.
Plus, I've always been a passionate fan of nutrition and a healthy lifestyle.
I hope my knowledge in the books will help you feel better and start a new life.
Enjoy your diet and good health.
Best Regards,
Jane.