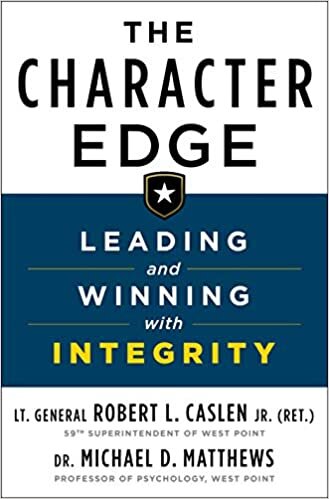 About The Character Edge: Leading and Winning with Integrity:
The former superintendent at West Point and a psychologist explain why all successful leaders rely on a foundation of strong character.
Among the most successful leaders throughout history―from Abe Lincoln to Rosa Parks, Mahatma Gandhi to Susan B. Anthony, Martin Luther King, Jr. to Nelson Mandela―some were brilliant mathematicians and economists, others were creative visionaries, still others were masterful at strategic planning. Their mastery of their field wasn't the secret to their highly effective leadership. All of their skill, grit, resilience, charisma, and courage emanated from one thing: their strength of character.
Character―the moral values and habits of an individual―is in the spotlight now more than perhaps at any other point in modern history. Politicians distort facts. Corporations cheat customers and investors. Athletes are caught using illegal supplements. In addition to harming our culture at large, these failures of character have a profound and undermining impact on leadership.
The authors of this book are experts on the value of character, its correlation with successful leadership, and how to build it in individuals and prospective leaders. General Robert L. Caslen, Jr. served the US Army for over 43 years and served as Superintendent at the US Military Academy at West Point. Psychologist Dr. Michael D. Matthews is a Professor of Engineering Psychology at West Point who has focused on the psychology of character for years. Together they witnessed firsthand that raw talent is not enough to stand on its own; successful leadership relies on the critical foundation of a strong character.
In The Character Edge they leverage their perspectives to offer an empowering, story-driven argument―backed by the latest scientific research―that character is vital to success. They give readers the tools to build and sustain character in themselves and their organizations by testing readers' strengths of the gut, head and heart and teaching how to build trust and nurture the seeds of character.
Buy the book:
Author Bio:
Bob Caslen is a United States veteran who served in the U.S. Army for 43 years. His military career culminated with his appointment as the 59th superintendent of the United States Military Academy at West Point. He held this position for five years and retired in 2018.
His awards and decorations include the Defense Distinguished Medal, the Distinguished Service Medal with two oak leaf clusters, the Defense Superior Service Medal with oak leaf cluster, the Legion of Merit with four oak leaf clusters, the Bronze Star Medal with two oak leaf clusters, the Defense Meritorious Service Medal and the Meritorious Service Medal with five oak leaf clusters. He also earned the Combat Infantryman Badge, the Joint Chiefs of Staff Identification Badge and is Airborne, Air Assault and Ranger qualified. To learn more about Bob, please visit https://www.robertcaslen.com/.