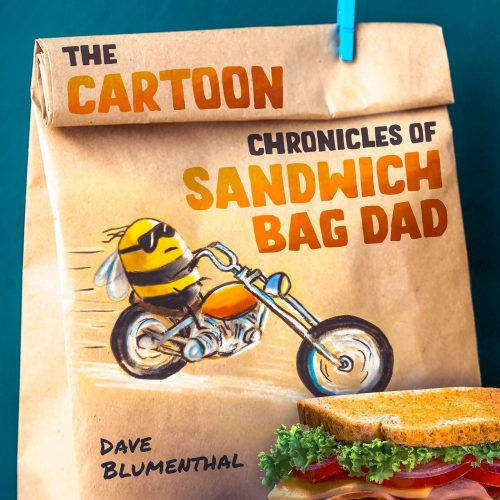 About The Cartoon Chronicles of Sandwich Bag Dad:
It started out as a simple shape carved into his daughter's sandwich to make her smile at school lunchtime. Today, it has evolved into a collection of thousands of sandwich bag cartoons, a social media following spanning the globe, and a dedicated exhibition at Australia's National Cartoon Gallery.
Since 2012, Dave Blumenthal (a.k.a. Sandwich Bag Dad) has been combining his love of art and wordplay. Every day, he draws custom cartoons on the lunch bags of his three daughters to keep them amused and to add some fun to their school day. Amusing, beautifully detailed, and whimsical, Dave's art has become a joyous visual essay of his kids' school lunch journeys and continues to delight a growing, worldwide community of dad joke aficionados.
The Cartoon Chronicles of Sandwich Bag Dad is a wonderful collection of Dave's most popular and endearing lunch bag drawings. Featuring everything from bees riding motorcycles ("Born to bee wild") to coffee cups doing Pilates ("pi-lattes"), this book is witty, pun-filled and 100% 'dad jokey'. The accompanying sandwiches are, however, sold separately!
Buy the book:

Author Bio:
Dave Blumenthal never intended to write his book, 'The Cartoon Chronicles of Sandwich Bag Dad'.
He is not an author, unless you count the six-page 'novel' he handwrote at the tender age of 6. That book, which chronicled the life of an elephant named David, was a sell-out (the single copy was sold to his mum) and was critically acclaimed by both sets of Dave's grandparents.
Dave is not a trained artist either. Drawing cartoons on his daughters' lunch bags (under his moniker, 'Sandwich Bag Dad') is just a ritual he's been engaged in since 2012, a nightly hobby that lets him combine his love of art with his passion for wordplay.
Dave is simply a father who loves using his dad jokes to make his kids smile and roll their eyes in equal measure.
Born in South Africa, Dave emigrated to Melbourne, Australia in the 1980s with his parents and three siblings. Although he intended to become a lawyer and spent many years at university lugging law books around in his satchel, Dave somehow ended up in the fast-paced world of investment banking and venture capital. Nowadays, he is the CFO of a modular building company, a job that lets him work with numbers whilst pretending to be a tough construction guy in his high visibility jacket, hard hat and safety boots.
Sandwich bag art is not Dave's only crazy passion. He is also a reformed fitness fanatic, having competed in several long-course Ironman triathlons and marathons. Dave has a large collection of medals and Lycra to prove it.
Dave is happily married to his university sweetheart, Mel, and has three daughters, who are the reason this book exists. He is also the proud 'paw-rent' to two slightly crazy dogs, who sit loyally by his side every night as he draws and who never roll their eyes at his dad jokes. Well, not to Dave's face anyway.