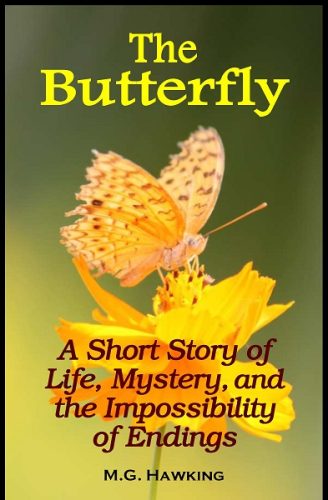 About The Butterfly: A Short Story of Life, Mystery, and the Impossibility of Endings, by M.G. Hawking:
Free on Amazon January 21st and 22nd. Discover an enchanting story that takes you on a journey into the wonder and mystery of life. An unforgettable tale that explores the enduring power of the light that animates us all, this narrative will resonate in your heart long after the last words have been read. 5-Star reviews: "A beautifully written book…" "Deeply touching and enlightening…" "A beautiful little story that is a gentle reminder of the truth." A Kindle Unlimited Book from Wisdom Masters Press. Special 2021 Edition, includes a Bonus Anthology Section. For more information, please see the description on the book's Amazon page. Thank you, and enjoy!
Buy the book:
Author Bio:
M.G. Hawking is an avid traveler, adventurer, and writer. Devoted to exploring remote areas of the globe to discover regions unknown to the Western world, always in search of extraordinary people and experiences, he has found many, especially in the Great Range of the Himalayas, the setting for most of his books. His focus is documenting profound wisdom traditions and revealing the knowledge and power they convey. Hawking is the author of the book series, 'In The Valley of Supreme Masters,' along with its associated companion volumes. When not traveling, he spends his time working on projects related to presenting books of an esoteric nature with his wonderful team in Northern California. Heather Cantrell, M.Litt., contributor and editor for Wisdom Masters Press, is an experienced world traveler. Having been born in Nepal to British parents who were teachers in various parts of Asia, she has extensive experience in the Himalayas, and is a devoted equestrian and animal lover. Amber Chellings, M.Phil., contributor and newsletter director, is an avid photographer, outdoor enthusiast and ardent equestrian. Jenna Wolfe, Ph.D., our exceptional research expert, contributor and book content supervisor, is a primary link to our numerous academic technical advisers.