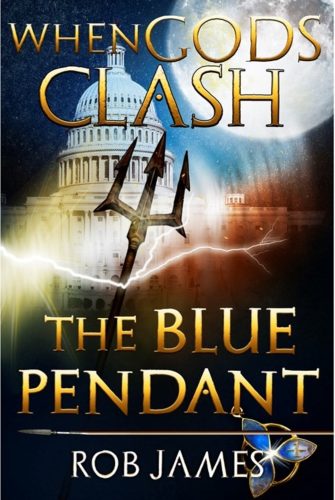 About The Blue Pendant by Rob James:
First in series – 99c
Angus MacDonald is a young Marine injured in Afghanistan and medically discharged. On a recuperative trip to his native Scotland, he visits Culloden Battlefield, where his ancestors died fighting the British in 1746. There, visions inspired by ancient gods warn him that Hades, the malevolent God of the Underworld, plans to make humanity his slaves. They choose Angus as their champion and grant him supernatural abilities. His world changes forever. He returns to America, dazed, and must hone his skills and new God-given strengths to battle the vengeful Hades. Out of his depth, unsure of whom to turn to and struggling to control his new mystical powers, he finds himself confronted by Hades, who, punished by Zeus for his growing ambitions, turns the attacks personal. The stakes are raised even further when he discovers Angus is no normal human, but a bringer of light and bound to upset the universe's balance.
What readers are saying:
"… There are many great elements in this novel such as a fascinating take on Greek mythology and wonderful world-building." ★★★★★
"… One thing I particularly enjoyed in this story is how James pushes the reader out of the box. He invites them to consider alternatives to what they have been told about mythology, religion, reality. This is mind-bending without being intimidating." ★★★★★
"… The Blue Pendant has an immensely broad appeal. As James is passionate about history, and the legends bound to those ancient times, his novel translates into an enduring tale." ★★★★★
Buy the book:
Author Bio:
Rob James is a student of history and geopolitics and writing novels with historical themes is his passion. Dramatic events and tales from history help to create thrills and suspense. They also color flawed but compelling protagonists.
Since childhood, stories of Rob Roy MacGregor, and the ancient Greek heroes heightened Rob's passion for reading. He knows them and the history of their times intimately, lighting the richly layered backstory of his novels.
When referencing ancient characters, tradition can become repetitive so Rob takes care to provide unique takes on the often-repeated tales. As his plots are set in the present day, intertwining the old with the new demands respect for the old, while giving them a modern punch; a lift to provide relevance and resonate with readers.