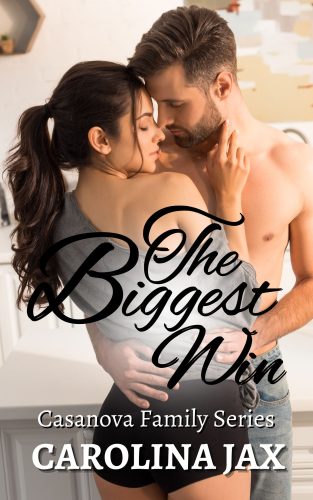 About The Biggest Win:
Meet Jackson Gage. A Dirty talking former NFL quarterback turned high school coach. He's looking for another claim to fame but will he take it or will the his best friends sister keep him in town?
Books2read.com/thebiggestwin
`Fake dating
`Best friends sister
`Football romance
`Small town
Grab the first book in the series and fall in love with the Casanova Family!
Drama and laughs, and always some spicy times, surround this family!
Check out the blurb:
"From the time I was a young kid, I wanted out of this small town. I wanted more. So, I worked hard and I did it.
I got the biggest opportunity of my life as an NFL quarterback.
As a first round draft pick, I was top of my game.
Then I blew it.
Now I'm back home wishing for another way out, another chance to be great.
Something is missing. Football is all I've known, so that must be it, right?
When my best friends sister returns to town, and I enlist her in getting back into footballs good graces, she stirs something inside me that I haven't felt in years.
Turns out I did find what I was missing, exactly where I was told not to look for it.
Will I still be able to leave or will she convince me my next biggest win is right here at home?
Buy the book:
Author Bio:
Hailing from a tiny town in New York, Carolina spends her free time with her military husband, their two sons and her chocolate lab, Lincoln. Her avid love for reading slowly morphed into an "I want to do that, too!" attitude and a dream was born with a pen and paper.
Carolina Jax writes contemporary romances about her favorite things – football, small towns and big hearts. Her stories are based on an everyday life with amazing people finding amazing love. They have the perfect combination of love, lust and laughs, and always with a Happily Ever After.
When she's not on the field watching her boys play football and lacrosse, she loves to drink wine with friends, watch the Philadelphia Eagles (hopefully) win, read about alpha heroes, and dream about everything Christmas.