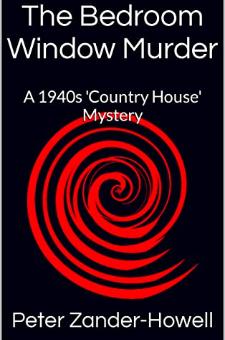 About The Bedroom Window Murder: A 1940s 'Country House' Mystery (Chief Inspector Bryce Murder Mysteries Book 1):
It is 1949. Sir Francis Sherwood – WW1 hero, landowner, magistrate – is shot dead while standing at an open bedroom window in his country house. A rifle is found in the grounds.
The county police seek help from Scotland Yard. Detective Chief Inspector Bryce and Detective Sergeant Haig are assigned to the case.
The first difficulty for the Yard men is that nobody with even a mild dislike of Sherwood can be found. But before that problem can be resolved, others arise……
Philip Bryce is an unusual policeman. A Cambridge-educated barrister, he joined the Metropolitan Police in 1937 under Lord Trenchard's accelerated promotion scheme. After distinguished army service in WW2, by 1949 he has become Scotland Yard's youngest DCI. A very private individual, he remains a bachelor, his fiancee having been killed during the war. Bryce is something of a polymath, and has a number of outside interests – railways and cricket near the top of the list.
Buy the book:
Author Bio:
Peter Zander-Howell (a pen name) lives with his wife in East Anglia, U.K. They have three children and three grandchildren.
Deciding to get out of the rat-race, Peter took very early retirement from his management role in a very large company. Then, far too young to retire completely and wanting to keep his mind occupied, he started a small and successful business. Twenty years later he sold that business, and has now embarked on a third career as an author.
During his first two careers, Peter served as a magistrate for thirty-four years.
His stories to date are set in 1940s England, and are written in homage to the "Golden Age of Detective Fiction". All feature Detective Chief Inspector Bryce. In chronological order they are:
The Bedroom Window Murder
The Courthouse Murder
The Felixstowe Murder
Two novellas will follow, probably to be published together in one volume:
The Office Kitchen Murder
The Public Baths Murder