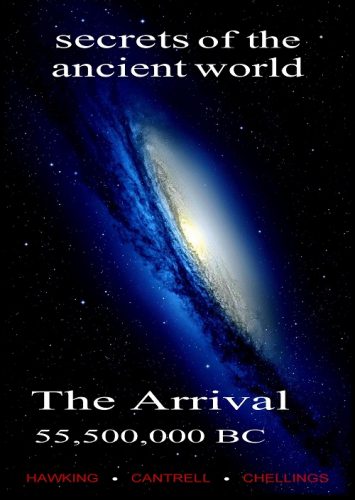 About The Arrival, 55,500,000 BC: Secrets of the Ancient World by M.G. Hawking, H. Cantrell, A. Chellings:
Free on Amazon September 4th thru September 6th. Discover the Realities behind Legends of Antediluvian Civilizations and Ancient Extraterrestrial Influences. The creation stories of civilizations worldwide relate that their progenitors came from the stars or the heavens. This book explores these ancient traditions and reveals knowledge that for long millenniums has remained concealed under layers of legend and secrecy.
Contemporary research reveals a stunning antiquity of civilization on our planet as archaeology unearths buried civilizations and discovers long submerged cities. Previous academic theories of the origins of civilization have fallen forfeit to finds at archaeological sites :worldwide: The ancient Egyptian 'Turin Royal Canon' records the reign of the pre-dynastic "Gods of Ancient Egypt" as beginning in 37,920 BC; Gunung Padang in Indonesia (c. 22,000 BC); inscriptions in the ancient Egyptian Temple of Edfu, recounting a historical record extending back to 18,000 BC; Nabta Playa in the Sahara Desert of southern Egypt (c. 16,500 BC); Puma Punku in the Andean Mountains of western Bolivia (c. 15,000 BC); Göbekli Tepe in the Anatolia region of Turkey (c. 12,000 BC), and a stunning new discovery under the ice of the Antarctic Continent, estimated to have been constructed as early as 55,500,000 BC.
The evidence of exceedingly ancient civilizations, coupled with the remaining traces of their advanced technologies and abilities, raises profound questions. Archaeologists point out that many of their constructions—such as the Great Pyramid or the incredibly precise andesite stonework at Puma Punku—would even today be extremely difficult to duplicate, and certainly impossible to surpass.
Bearing mute witness to the magnificence of mysterious ancient civilizations, the whole theory of progress hesitates before these testaments in stone. How did small stone-age cultures rise to the level where they were able to construct vast cities and immense megalithic complexes?
The creation stories of civilizations worldwide relate that their progenitors came from the stars or the heavens. Native Americans recount that their antecedents were "The Sky People" and "Star Beings." The builders of Teotihuacan describe their gods as having descended from the heavens. Egyptian texts speak of their "bringers of knowledge" coming from Sahu and Sopdit (Orion and Sirius) in a "cosmic egg radiating colored light," circa 18,000 BC.
The pre-Tibetan Zhang Zhung tradition describes their "god" Gekhoe as having descended to earth in a "resplendent jeweled egg" while "radiating brilliant hues on father mountain and mother lake," at which time "in the sky there appeared brilliant lights, melodious sounds in space, and many other wonderful occurrences," circa 16,000 BC.
The Maya, the pre-Incans, the Sumerians, and so many others, all express the same account in diverse symbolic languages—their "gods" came from the stars, bringing advanced knowledge and the gift of civilization. These cultures were greatly separated both geographically and chronologically, yet their creation stories are strikingly similar and, in many cases, virtually identical. Who were these "gods"? From where did they come?
Explore answers to these questions and discover extraordinary knowledge. Includes a Bonus Anthology Section exploring the extremely rare arcane knowledge of the ancient world, along with the powerful abilities that can be attained from the study of that knowledge. A truly incomparable book for anyone interested in enlarging their knowledge and personal power, and especially fascinating for anyone interested in the realities behind the ubiquitous legends of antediluvian civilizations and ancient extraterrestrial influences. 2021 Edition Kindle Unlimited Book, e-reader page count 300 (estimated, actual count varies with the reading device used). For more information, please see the 'Look Inside' feature on the book's Amazon page. Thank you.
Buy the book:

Author Bio:
M.G. Hawking is an avid traveler, adventurer, and writer. Devoted to exploring remote areas of the globe to discover regions unknown to the Western world, always in search of extraordinary people and experiences, he has found many, especially in the Great Range of the Himalayas, the setting for most of his books. His focus is documenting profound wisdom traditions and revealing the knowledge and power they convey. Hawking is the author of the book series, 'In The Valley of Supreme Masters,' along with its associated companion volumes. When not traveling, he spends his time working on projects related to presenting books of an esoteric nature with his wonderful team in Northern California. Heather Cantrell, M.Litt., contributor and editor for Wisdom Masters Press, is an experienced world traveler. Having been born in Nepal to British parents who were teachers in various parts of Asia, she has extensive experience in the Himalayas, and is a devoted equestrian and animal lover. Amber Chellings, M.Phil., contributor and newsletter director, is an avid photographer, outdoor enthusiast and ardent equestrian. Jenna Wolfe, Ph.D., our exceptional research expert, contributor and book content supervisor, is a primary link to our numerous academic technical advisers.