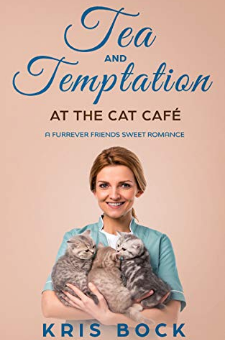 About Tea and Temptation at the Cat Café: A Furrever Friends Sweet Romance by Kris Bock:
Can two lonely people get a second chance at finding love?
Zach may be a best-selling novelist, but it's been a long time since he's felt truly alive. In the last six months, he moved to the country, his wife left him, and he was diagnosed with cancer. Now he lives in a haze of treatments, writer's block, and simply trying to survive each week. But when a pretty woman comes into his favorite café and throws herself down on a padded bench with a groan of despair, he feels something he thought he'd lost long ago: curiosity.
As a veterinarian, Jenna knows both joy and heartbreak. The former she can share with her clients. The latter she keeps to herself. She learned one lesson from her ex-husband: Men don't want to deal with your emotions. It's odd to have a stranger ask about her problems. It's even more of a shock when he offers to solve one of them by fostering the sick kitten abandoned by its owners.
Zach and Jenna bond over kitten care and build a close friendship. Could they have more? Zach is finally starting to hope for a future, ideally one that includes Jenna, but he can't move forward until he's dealt with his past. Meanwhile, Jenna is afraid to risk her heart on someone who might not survive the next few months.
The Furrever Friends Sweet Romance series features the workers and customers at the Furrever Friends Cat Café, and the adorable cats and kittens looking for their forever homes. Each book is a complete story with a happy ending for one couple. These sweet romances will leave you with the warm, fuzzy feeling of cuddling a purring cat.
If you enjoy friends to lovers tropes, or seasoned romance/mature romance, check out Tea and Temptation at the Cat Café. You'll also find rescue cats with plenty of personality and their own ideas about love.
Buy the book:

Author Bio:
Kris Bock writes novels of romance, mystery, and suspense. Her Furrever Friends Sweet Romance series features the employees and customers at a cat café. Watch as they fall in love with each other and shelter cats. Get a free 10,000-word story set in the world of the Furrever Friends cat café when you sign up for the Kris Bock newsletter at https://sendfox.com/lp/1g5nx3. You'll also get a printable copy of the recipes mentioned in the cat café novels.The Furrever Friends series begins with Coffee and Crushes at the Cat Café.