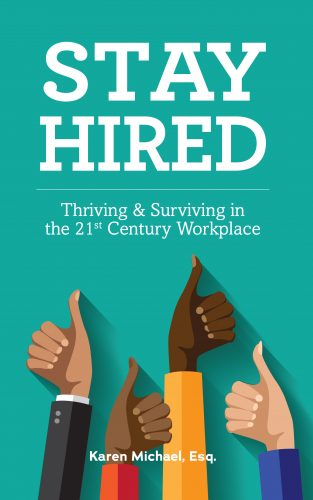 About tay Hired: Thriving & Surviving in the 21st Century Workplace:
You spend your whole life studying and training to do a job. But no one teaches you how to go to work.
Stay Hired offers real-world advice in short, easy-to-read chapters highlighting the best practices to thrive in the workplace. Employment attorney Karen Michael provides essential resources on fundamentals such as workplace conduct, ethics, discrimination and harassment, work-life balance, social media use, and employee legal rights and responsibilities.
Karen brings three decades of experience as a practicing attorney, human resources executive, college professor, columnist, and president of her own human resources and employment law firm. She now shares her expertise with those entering the workforce to stay hired, not fired.
Buy the book:

Author Bio:
Karen Michael, Esq. is the President of KarenMichael, PLC, an employment law and human resources consulting firm specializing in workplace investigations, management and leadership training, and HR and legal advice.
After spending three decades advising organizations on employment matters as a practicing employment attorney, HR executive and HR Consultant, Karen discovered the missing piece to a respectful and legally compliant workplace starts with setting expectations from the beginning with employees. The last thing an employer wants to do is fire an employee, and much energy and time is spent talking about employee issues. To solve this, Karen has combined her years of experience in working with organizations to compile the specific behaviors of a successful employee and to explain the legal rights of employees in the workplace.
Karen is a sought-after national speaker on HR-related topics and writes a weekly labor law column on workplace issues. Readers can rely upon her expert advice in a simple-to-read list of specific behaviors you need to stay hired, not fired.
To email Karen: kmichael@karenmichaelconsulting.com