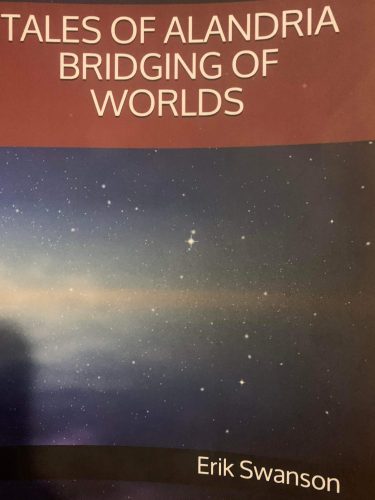 About Tales Of Alandria Bridging Of Worlds:
The world of Alandria, home to many kingdoms, is in the midst of internal strife. Magical creatures and men are called upon to help in overcoming the trouble that has recently struck the kingdoms of Narivangia and Romir, leaving many family and loved ones behind.
In the southern regions of Narivangia, peasant farmers are harassed by a greedy Sheriff, whom profits off the war. Iragnar and John do what they can with maintaining their family's land, trying to pass through the pressing times at hand. Prince Hithúrian along with his companions and the advising wizard of his father ride to battle in hopes of putting an end to the conflict. The Dark Lord, Lufarian, watches the fray and continuously schemes to bring the world under his dominion. Across inter dimensional planes, a new people, possessing vast technology, eagerly attempt to cross through the multiverse to extend their influence.
Victories will be gained, but only briefly. New alliances and friendships will be forged. Many shall be affected and the kingdoms will not be the same.
Buy the book:

Author Bio:
I'm a New England resident from the state of Massachusetts. A trade school graduate, who likes to keep himself regularly busy with reading, weightlifting, hiking, cooking, carpentry & construction work, exploring nature, and being creative.