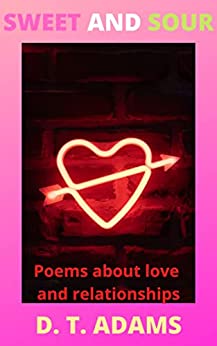 About Sweet and Sour:
What is love anyway?
All the poems in this collection are to do with love and relationships. As the title implies, some of them are positive in tone, while others are quite bitter. The poems are split into three sections:
– Single
– Taken
– Single Again
The pieces in the first section discuss being single and longing for a relationship. The second section looks at relationships and how they can be fulfilling but also problematic. The final one focuses on finding yourself single again after a break-up and not having the best outlook on life.
Buy the book:
Author Bio:
D. T. Adams is a British writer who mostly writes contemporary fiction. He draws inspiration from the world around him and current events, whether it's society's attitude towards celebrities, the complexities of love or the commercialisation of Christmas. He's released eight e-books to date: a full-length novel, a collection of two-sentence horror stories, a collection of writings about the Lake District and more.