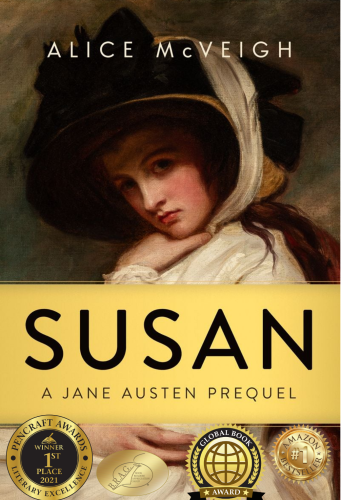 About Susan: A Jane Austen Prequel:
Susan is a Jane Austen Prequel (or Pride and Prejudice Variation) brilliantly capturing Austen's own Lady Susan as a young girl.
As the BookLife review put it for Publishers Weekly: "McVeigh's prose and plotting are pitch-perfect. Emma mingles with Pride and Prejudice in a delightful confrontation between the two books' worlds… This Austen-inspired novel echoes the master herself."
Familiar characters abound – Frank Churchill, Lady Catherine de Bourgh, Darcy himself – but Susan – mischievous and manipulative – is the star. This is Austen that even Austen might have loved, with a touch of Georgette Heyer in the romantic sections. Fans of Bridgerton will also relish this classic regency romance, the first in a six-book series.
Sixteen-year-old Susan Smithson – pretty but poor, clever but capricious – has just been expelled from a school for young ladies in London.
At the mansion of the formidable Lady Catherine de Bourgh, she attracts a raffish young nobleman. But, at the first hint of scandal, her guardian dispatches her to her uncle Collins' rectory in Kent, where her sensible cousin Alicia lives and "where nothing ever happens."
Here Susan mischievously inspires the local squire to put on a play, with consequences no one could possibly have foreseen. What with the unexpected arrival of Frank Churchill, Alicia's falling in love and a tumultuous elopement, rural Kent will surely never seem safe again…
Buy the book:
Author Bio:
Alice (Spaulding Taylor) McVeigh is a London-based novelist. Her first two contemporary novels were published by Orion/Hachette; her third, Last Star Standing (Unbound Publishing) a Kirkus-starred speculative thriller, was a runner-up in the Independent Press Awards, and a finalist in the 2022 Independent Press Awards, Chanticleer's Cygnus Award,
Susan: A Jane Austen Prequel was a BookLife 2021 quarterfinalist, rated 10/10 in Publishers Weekly ("This Jane Austen-inspired novel echoes the master herself.") It won gold medals in the Pencraft, eLit and Global book awards. Shelf Unbound magazine selected it as one of 100 "Notable Indies" of 2021 (included non-fiction). It is currently a finalist for several other prizes.
McVeigh's newest novel (Harriet: A Jane Austen Variation ) was published on Feb. 3, 2022. Just as Susan imagined a youthful Lady Susan, Harriet imagines a Harriet Smith clever enough to appear stupid and malleable to the great Emma Woodhouse. On March 28 th, Harriet received an "outstanding" rating as Editor's Pick in Publishers Weekly. A finalist in the International Book Awards, it has a gold medal from Pencraft in historical fiction and an IndieBRAG medallion.
Alice grew up in Asia, as her father was a US diplomat. She has lived in seven countries and visited 44 – mostly because of her previous life, touring as a London orchestral cellist. She and her professor husband share one daughter, two dachshunds and an addiction to tennis.