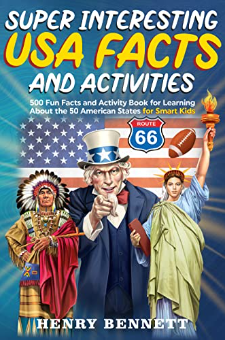 About Super Interesting USA Facts and Activities : 500 Fun Facts and Activity Book for Learning About the 50 American States for Smart Kids:
Keep Your Child Busy With Hours of Super FUN Facts and Worksheet Activities to Learn about the United States!
The bald eagle, the Statue of Liberty, the 50 American states, Mount Rushmore, Washington DC, the Stars and Stripes! Kids everywhere are fascinated by the wonders of the United States of America, and this reference book is jam-packed with 500 crazy and historical facts, worksheets, illustrations, and coloring activities.
This exciting look at USA history for kids ages 7-12 includes:
500 captivating facts―This book introduces kids to many of the incredible, informative, and often wacky facts about each state; including their surprising history, geography, landmarks, capitals, animals, inventions, food, and famous residents.
A fun way to learn―Don't limit kids to lifeless textbooks to learn about history, they will encounter trivia about important people, places, and events across thousands of years of United States history.
Workbook activities, coloring, and entertainment at home―These facts provide kids with a head start on the topics they'll be covering in class, plus they will learn about the 50 states through puzzles and fun activities including: matching, maps, mazes, writing activities, word scrambles, quizzes, and mandalas with colorable characters and illustrations.
Super Interesting USA Facts and Activities helps history come alive and allows kids to deep-dive America's past through memorable and fun trivia that they will love to share.
Buy the book:
Author Bio:
"Creativity is an area in which younger people have a tremendous advantage since they have an endearing habit of always questioning past wisdom and authority."~ Bill Hewlett