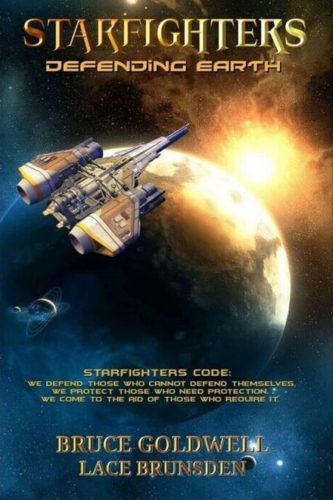 About Starfighters – Defending Earth By Bruce Goldwell and Lace Brunsden:
"Starfighters is a new teen sci fi fantasy series. Destined to be the next big hit for sci fi book fans. This fantasy book series is like The Last Starfighter on steroids. Are you ready for a space adventure book that will have you sitting on the edge of your seat?"
The Earth is about to be attacked. The first battles are about to be fought, and the war for Earth's future is just about to begin. Whoever wins will determine the fate of humanity. When the fate of humankind depends on the bravery of teenagers, you need a team you can count on.
No one can stand in the way of Billy Bronson and his dream of becoming the best starfighter pilot in the civilized world. He's laser-focused, determined to make it to the top. In a world where everyone is a potential competitor, this is not easy. But what makes Billy's quest even harder is that he lives–and goes to school–in one of the outlying planets where they still haven't been connected to beings from other worlds. That's about to change.
Billy Bronson is obsessed with Starfighter, the Virtual Reality game that makes you feel like you are piloting your Starfighter. As is every teenager in the civilized world. When he completes a time-sensitive mission in second place, he is surprised to see that he is invited to Nevada to compete to be ranked one of the best Starfighters in the entire world.
But, when Billy gets there, all is not what it seems, Billy realizes that the alien known simply as Harvey has taken it upon himself to train up his group of Starfighters on Earth, without the permission or the consent of the Galactian Federation. He cannot let innocent people die. The way he has managed to do this covertly is by implementing Starfighter training into the hit game.
Billy Bronson, amongst others, are some of the best Starfighters that Earth has to offer, but this is not what they signed up for. Will Billy and his new friends be able to defend the Earth from an attack by the Thrall, or will the teens fail in their first mission?
Only time will tell. One thing is certain though, it will be one action-packed adventure.
Buy the book:
Author Bio:
The journey of Bruce Goldwell did not start so happily compared with other writers, he was homeless for 10 long years. During that time, he used to visit bookstores to read self-development books written by famous authors like Bob Proctor, Brian Tracy, and many others. After reading these books, he wished he had learned these success principles when he was young.
Goldwell envisioned writing a story where readers of all ages could learn important life lessons through fantasy, mystery, and magic. People, especially the young age generation, love dragons and magic and for that reason, the author has decided to write a story with dragons along with fairies, witches, elfins, and other magical creatures. The author wanted to share what he has learned and was to the young readers ( middle grade and adults) so they would never end up being homeless.
"Sometimes life teaches us amazing lessons and winning is not always what it seems. Winning is in the eye of the beholder. I feel that helping others is one of my missions in life. Whether I become rich or not is not important to me. My goal is to help make the world a better place. I believe helping others helps make this a better world," Bruce Goldwell said.
Bruce will be continuing to offer Dragon Keepers as an independent author through the publishing services of Amazon. Because of Ruth and Frank's belief in Bruce's mission to help young readers learn success principles via the Dragon Keepers series, he is going to continue to offer his books online to honor the two people that believed in him and the mission of the books.