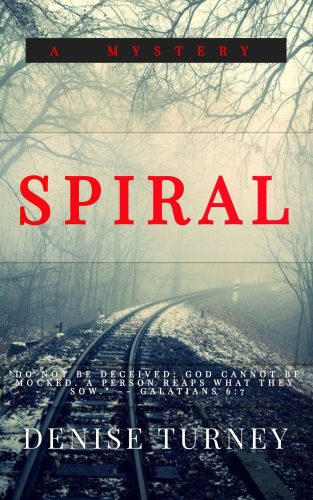 About Spiral:
HAUNTING SUSPENSE NOVEL THAT WILL GRIP YOU FROM THE START
Thrilling murder mystery with a cliffhanger ending!
A page turning thriller murder mystery written in the vein of The Lovely Bones, The Changeling and Ghosts, Spiral is a suspenseful murder mystery powered by the unsolved death of a girl who turns up missing in Memphis, Tennessee's Shelby County at the height of the Second World War.
SPIRAL HIGHLIGHTS:
✔Perfect blend of detective suspense and paranormal thriller
✔Could two spiritually gifted children hold the keys to this town's future?
✔Small town cover-ups with huge consequences
It's the roaring 1940s.
HAUNTING TENNESSEE HISTORY – IT'S TIME THE TRUTH WAS TOLD
Unethical traditions that the powerful work hard to keep secret, bear a fruit that demands a hard-to-pay price in this murder mystery. The year is 1944 and a young girl, the daughter of a prominent attorney, has disappeared. What if this new girl's disappearance in this murder mystery is linked to the abandoned girl kept hidden away in one of the Shelby County orphanages, what if the murder mystery has deeper ties to the town's elite than anyone imagined.
As the search for the kidnapper unfolds, it becomes hauntingly clear that the attorney's young daughter isn't the only child that's gone missing. Despite relentless efforts to find the girl and stop another kidnapping, it's not until the young African American Tilson girl, a gifted child who hears from the dead, gets involved in the mystery that the crimes start to get solved. Get Spiral and find out what a dead girl, the daughter of a prominent attorney, shares with an unassuming but gifted African American girl, she too the daughter of a prominent, powerful family.
Buy the book:
Author Bio:
Denise Turney (www.chistell.com) is a professional speaker and writer who brings over 40 years of book, newspaper, magazine, radio and business speaking and writing to a project. She has been listed in various entertainment and business directories, including industry leaders such as Who's Who, 100 Most Admired African American Women and Crosswalk. Denise Turney's works have appeared in Parade, Essence, Ebony, Madame Noire, We The People, The Trenton Times, The Pittsburgh Quarterly and Obsidian II.