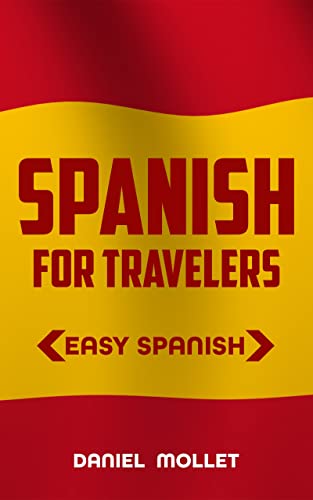 About SPANISH FOR TRAVELERS: EASY SPANISH:
The goal of this book is to provide essential Spanish Travel Phrases every traveler needs to know, and some basic Spanish grammar rules. It is useful to learn Spanish phrases which can be useful in different situations as you travel.
The travel bug, once caught, is hard to get out of our system. But deep down we know that we don't understand the locals well – or maybe not at all. Could it be important to be able to converse with those in authority? English, at best, is a second language in those parts of the world, spoken by a few. Group travel is fine, but to rely on the group leader to always be at hand to explain restricts one's freedom. It feels great to be independent!
Learning Spanish can help you communicate with locals. It is especially important to be able to speak Spanish if you plan a trip to a Spanish speaking country. You will find that natives will respect you more if you at least appear to be trying to learn and speak their language. Even though most Spanish speaking people can speak English (even a little), you may come across several who have no English skills at all. This is a key reason for learning how to speak Spanish. It will go a long way toward making your trip more enjoyable.
Spanish is native to Spain of course; but the Spanish explorers travelled around. So, you can be sure that South America, Central America, Mexico, the Caribbean and even the Philippines are all quite proficient in this lovely language. The dialects differ from place to place, even within the same country, and the influence of Spanish may even be heard in Arabic, Portuguese, Tagalong, and other world languages. Spanish is an easy language to learn, thanks to its consistency of vowel sounds and relatively simple syntax. There are no tonal elements as exist in the Asian languages – another big plus for Spanish learners. Some Spanish words do vary in meaning from country to country, but it is more a cultural difference than a linguistic difference. For instance, a "tortilla" is always pronounced the same way, but in Mexico it is a corn or flour wrap for meat or beans. In Puerto Rico it is the equivalent of an American omelette. Just as foods may vary, so does the meaning of certain words taken in or out of context.
Buy the book:
Author Bio:
Author Bio: https://www.amazon.com/s?i=stripbooks&rh=p_27%3ADaniel+Estruga&s=relevancerank&text=Daniel+Estruga&ref=dp_byline_sr_book_1
Email: laradates@outlook.com