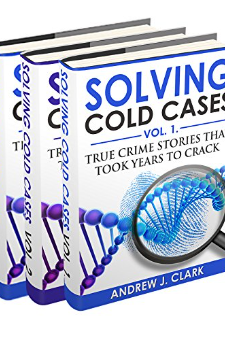 About Solving Cold Cases Box Set 3 books in 1 : Volume 1, Volume 2 and Volume 3: True Crime Stories That Took Years to Crack:
Chilling. One of the best words to describe the cases recounted in this book set. These gruesome crimes seemed to hit a dead end… That is until the cases were reopened for investigation and later solved thanks to modern technologies and new investigation techniques.
Download FREE with Kindle Unlimited!
From the more famous cases to the more obscure, the crimes and hardships that the victims had to suffer will send shivers down your spine. Notably detailing the disappearance of Chandra Levy to the multiple murders committed by Dennis Rader.
You will find that this book includes:
• Bone chilling murder and disappearance cases
• The rise of DNA technology
• International cases from the United Kingdom
• More local cases from North America
• Ingenious methods that some investigators had to resort to in order to solve the cases.
• Cases that took decades to solve!
And also more cases such as:
•The anonymous corpse that came known as "Tent Girl"
•A murdered man who was far from innocent
•The killer who went on the run and battled against his extradition
•Trying to track a man who was perpetually on the run
•What happens when the rich and powerful protest their innocence in murder cases
•The disappearance after a supposed family argument of Bonnie Haim
•And much more
Read on your favorite devices such as Kindle, IPhone, IPad, Android cellular phone, tablet, laptop, or computer with Amazon's free reading Kindle App.
Scroll back up and click the BUY NOW button at the top right side of this page for an immediate download!
Buy the book:
Author Bio:
Andrew J. Clark has been a police investigator for most of his career. Retired at a young age, he decided to open shop as a private investigator specializing in missing person cases. Now retired, he writes full time about unsolved crimes. Andrew lives in West Virginia with his wife and two daughters.