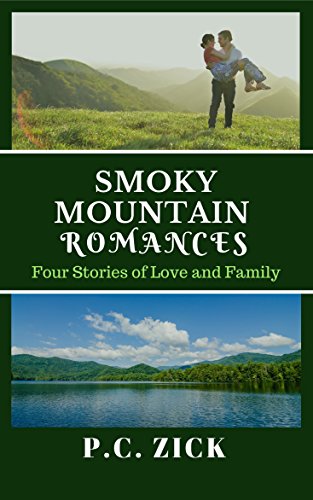 About Smoky Mountain Romances by P.C. Zick:
Love and romance, family and holidays, pets and rescues – four stories with a community of characters living in the fictional town of Laurel, North Carolina. The Smoky Mountains provide the perfect backdrop for falling in love.
Minty's Kiss – A holiday story about Molly and Nick rekindling a childhood romance and creating families with a little bit of help from a little girl and a kitten named Minty.
Misty Mountain – All the characters return as Lacy learns to forgive her past and newcomer George discovers he really can trust again.
Mountain Miracles – Sissy and David are strangers until they move separately to Laurel and discover the importance of family–both blood and those of their own choosing.
A Merry Mountain Christmas – She's been the mother to all in Laurel, and now it's Fran's turn to find love after she becomes a widow. As she struggles to find her way, several rescue dogs lead her to both love and purpose in this holiday romance.
Travel to the mountains where wholesome stories and heartwarming families show us what is most in important.
Grab your copy today of Smoky Mountain Romances filled with four novels made for reading in front of a roaring fire.
Buy the book:
Author Bio:
P.C. Zick describes herself as a storyteller no matter what she writes. And she writes in a variety of genres, including romance, contemporary fiction, and creative nonfiction. She's won various awards for her essays, columns, editorials, articles, and novels.
The three novels in her Florida Fiction Series contain stories of Florida and its people and environment, which she credits as giving her a rich base for her storytelling. She says, "Florida's quirky and abundant wildlife—both human and animal—supply my fiction with tales almost too weird to be believable."
P.C. writes both sweet and steamy romances. The sweet contemporary romances in her Smoky Mountain Romances, are set in southwest North Carolina. Another sweet romance series, Rivals in Love, contains seven stories about finding and keeping love alive. The novels follow the Crandall family of Chicago as the siblings find love despite their focus on successful careers.
Her steamy romances go from Florida to Long Island. The Behind the Love series, set in a small fictional town in Florida, feature a community of people who form bonds as they learn to overcome the challenges of their youth. Her Montauk Romances are set in and around Long Island and feature simple, yet sophisticated beach houses designed with romance in mind. The two books in this set are filled with steamy scenes as love grows and thrives.
Zick offers a variety of nonfiction books, which include a book on vegetable gardening, a compilation of her essays and short stories from her decades-long career as a writer, and a primer for writers on taking an idea and turning it into a published book. She has also published and annotated the journal of her great-grandfather based on his experiences as a Union soldier during the Civil War.
Her novels contain elements of romance with strong female characters, handsome heroes, and descriptive settings. And all of her works express her philosophy of living lightly upon this earth with love, laughter, and passion.
She and her husband split their time between Tallahassee, Florida, and the Smoky Mountains where they enjoy gardening, kayaking, golfing, and hiking.