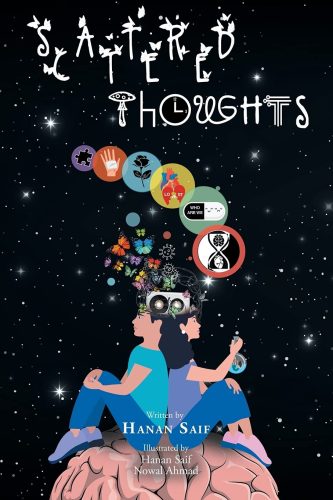 About Scattered Thoughts By Hanan Saif:
The intention and inspiration behind this book were the stories following each piece. These bits of poetry are written to inspire others. They are stories of victims who managed to survive from what is somewhat called the norms in our daily living. They are layers of billed sorrow. Thoughts that were put to fit their scattered pieces. Their reflections of suicide soon became the light at the end of the tunnel, the hope for better days. They became the source of joy and comfort for someone's struggle. They put efforts into living. They never stopped trying. They survived their battles, and so can the many of you fighting. This wasn't the end for them. Their battles don't define them; rather, it shapes them individually. Their scars are sharp but an uncovered tattoo for the world to have a glimpse at. It is their stories of survival. Not everything is about ending your life. Not everything is a blame of one individual. Through these individual efforts to make changes in other lives is what pushed me to proceed with the book. I was inspired yet shocked into the truth of our existence. I know these stories have been ongoing issues for a while. However, my goal is to support and motivate others to be the best version they can be. That no matter how many times you fall and fail, the more you push for, the better. Scattered Thoughts is a motivation for the young and the old. It is a series of battles where the victims were the winners at the end. The people whose stories are written about are now happy and wish that you could end up with their results. They wish that you can forgive yourself, love yourself, and most importantly, appreciate and know your worth.
Buy the book:
Author Bio:
Hanan Saif, a.k.a. H. E. Saif, is a Pre-Med student by day and a poet/artist by night. An immigrant, for over a decade who strug- gled but pushed hard to leave a footprint for others to follow. Her admiration and determination to excel have been a key factor in her achievements. Her work in the community and passion to help oth- ers has gained her respect from the youngest to the oldest figure. Her endeavors are unlimited.