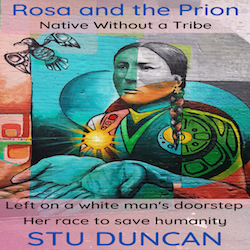 About Rosa and the Prion – Native Without a Tribe:
The audiobook version is yours for 99 cents. Ridiculously cheap for 5 hours of quality entertainment. Introductory pricing. Get it now at that price while you can. Available after purchase for immediate download as an mp3 file playable on just about everything. Enjoy!
Left on a white couple's doorstep.
Raped by 5 white boys at her high school prom.
Abused by a political appointee boss.
Yet she works to save the world?
A newborn is left on a white-man's doorstep. The childless couple raise her. She becomes a world famous medical researcher. In trying to save the world from a 100% fatal disease she is kidnapped by people who plan on killing her. Saved by an Indian, she discovers her tribe and her people. Finally true love blossoms in her life.
Buy the book:
Author Bio:
I live in the forest of Ontario, Canada, on the edge of a lake. I was never able to decide what I wanted to do when I grew up and it is getting a little late to make that decision. I have been a skydiver, barefoot water-skier, paramedic, college teacher, software developer, chemist, fisherman, pilot, aircraft builder, and an author. Those are the things I remember.
I studied at Niagara College, Waterloo University, McMasterUniversity, Brock University, and the Universidad Autonoma de Guadalajara in Mexico.
I have flown the plane I built, a two-seater STOL (Short Take Off Landing) aircraft, from coast to coast in Canada. In 2020 I added floats to my plane.
I am currently working on a novel tentatively called "Robot Wife".