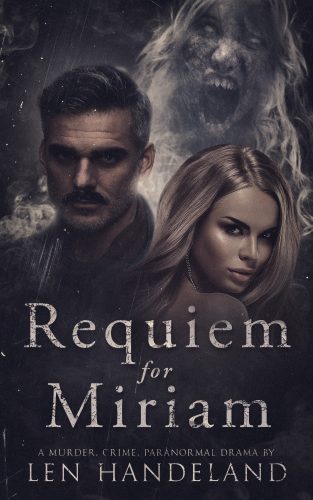 About Requiem for Miriam:
Sidney and Miriam seem to be the perfect, successful New York couple, but their marriage is a tragic sham. When Sidney's glamorous mistress, Tori, urges him to get rid of his troublesome wife, a murderous series of events ensues. Sidney kills Miriam in a fit of rage, and with her last breath, she curses him; she will haunt him for the rest of his life.
But the killing isn't over; Tori dies a terrible death at the hands of a vengeful ghost, and Sidney goes on the run. His life is in ruins, and he is haunted by two phantoms: the woman he married and the woman he loved.
Maria, an ambitious young detective with a hidden psychic gift, is on the case. With the help of her Haitian lover, Raphaella, a spirited, rum-drinking voodoo expert, she sets out to track Sidney down and goes undercover in a desperate bid to entrap him. But Maria soon finds herself in mortal danger from the man she is hunting. And it may be too late for Raphaella to rescue her.
Will Maria and Raphaella get their man? And will Miriam find the justice – and revenge – she seeks from beyond the grave?
Buy the book:
Author Bio:
Len Handeland's creativity took him from attending FIT (Fashion Institute of Technology) in Manhattan to hair. He studied fashion illustration, then years later to a long and successful 27-year career in the hair industry as a sought-after hair stylist, hair colorist, and salon owner. Len owned a salon in San Francisco's Union Square for nine years and two salons in the town of Sonoma, Wine Country; for a total of 8 years, now fully retired from hair, Len became a full-time writer in the spring of 2021.
Len is a dynamic writer specializing in fiction, specifically horror, paranormal, and crime drama novels. Len has enjoyed writing as far back as middle school. To further enhance and better his writing, Len has taken many creative writing classes and in 2017 attended The San Francisco International Writer's Conference, which inspired him to write his first book, "The Darkest Gift," based on his love of vampires. He credits the late Anne Rice for being the author that inspired him the most to write his own dark vampire story. His first book earned him 5-star reviews from readers and professional book reviewers. His first novel became a finalist in the American book fest contest in the fall of 2021.
This spring Len's novel "The Darkest Gift" was awarded first place in the Bookfest 2022 awards in the category of Fiction/Horror. In addition, Len's book and author interview were featured in the fall literature issue of "DeMode" magazine, with Len's book named one of 10 must-read books of 2021. With the completion of Len's second novel "Requiem for Miriam," and his third based on his 27 years in the hair industry "Tales from the Chair" he's writing his fourth book ("Transplant") to release in the fall of 2022. When Len isn't writing, some of his hobbies include hiking, biking, playing billiards, and vegetarian cooking. Len has trained in various forms of Martial Arts for over 20 years and appeared in several plays in Sonoma's Community Theater. In addition, Len is also a singer who performed at numerous Wineries in the North Bay and Rotary events. The writer lives full-time in Palm Springs with his husband Byron Hancock and their two cats, siblings (Felix and Felicia)