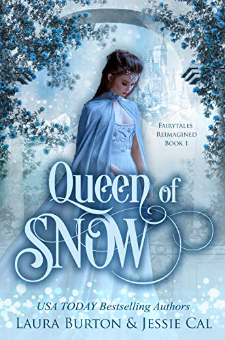 About Queen of Snow: A Snow Queen Retelling (Fairytales Reimagined Book 1) by Jessie Cal:
Before she was The Snow Queen… she was a Princess on the run. Princess Aria has one goal: collect the mirror shards to the Mirror of Reason to create a portal that will take her far away from the Chanted Kingdom. Before The Evil Queen kills her like she did to Aria's family. But when Jack Smith from Oxford stumbles into her life through a portal in his grandfather's study, there's something familiar about him. A connection so strong, she can't ignore. Jack is not only shocked to discover that fairytales are real, but confused as to why a pirate is after him. So, if he wants to survive in this foreign land, and return home, he needs to help Aria complete the Mirror of Reason. But as Aria struggles to control her ice powers, something awakens inside of Jack. As his heart stirs for the young Princess, he cannot help but wonder if he's found his true home, after all? Queen of Snow is the thrilling first installment of the Fairytales Reimagined series. This exciting tale follows two destined lovers with action, greek mythology, stirring kisses and a heart-pounding conclusion. Scroll up and start reading today!
Buy the book:

Author Bio:
The best love is the kind that awakens the soul and plants a fire in your heart…
…all the while calming the turmoil in your mind.
That's what Jessie strives to give you through her sweet contemporary romances. She also has a weak spot for suspense and plot twists.
Jessie lives in a small southern town with her prince charming, still falling in love with each passing day. When she's not visiting family, getting together with friends, or volunteering in the community, she's either watching romantic movies, reading romantic books or writing her next sweet romance novel.
Join Jessie's Exclusive VIP Group at jcalbooks.com and chat about all things romance! You'll also get exclusive sneak peeks on new releases, behind the scene bloopers and much more!
Learn more about Jessie and her books at her website: jcalbooks.com
You can also find her on:
Facebook: facebook.com/jcalbooks/
Twitter: @JessieCal3
BookBub
Goodreads