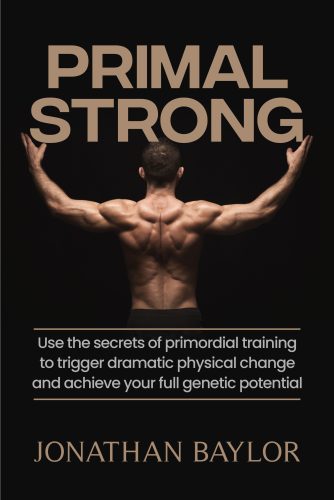 About Primal Strong:
Bigger, leaner, stronger… What if I told you all you need is your body and a little science?
Tired after years of hitting the gym, only to be disappointed by the results? Is the gym not your scene? You want to be strong; you want to be lean, and you want to be healthy. But instead, you are stuck in the same body year after year.
What if you could change your body, and get stronger from the comfort of home without injury? Build muscle and get freakishly strong without crazy diets, expensive supplements, or ridiculous amounts of time in the gym.
Here is a hard-hitting truth: the mainstream fitness industry wants you stuck and beholden to them and the next "best thing" to help you get in shape. The more desperate you are, the more you will buy, searching for that missing piece.
What if I told you all you need is your body and a little science?
Jonathan Baylor, founder of Finn's Strength Academy, has spent years as an Exercise Physiologist and Wellness Coach, teaching hundreds of clients how to be fit, healthy, and build an amazing body, with short impactful workouts from the comfort of home.
Learn what really works to get in shape using only body weight and calisthenic exercises and using primal functions already within your body, to become the strongest and healthiest version of yourself.
In his book, Primal Strong, you will learn:
· How to use science to build muscle using your own body
· How to develop massive amounts of strength
· How to increase your energy, endurance, and stamina
· How to burn fat while getting stronger
· How to breathe effectively so you can optimize you workout without burning out
· How to build a healthy, lean, young looking body, regardless of your age
· How to leverage short impactful workouts to create noticeable change in your body from the comfort of home
Exercise and getting in shape should enhance your life, not take it over. Primal Strong is a state-of-the-art book, designed for the twenty-first century. Buy your copy and experience these results today.
Buy the book:
Author Bio:
Jonathan Baylor started his fitness journey at a young age. His enthusiasm with strength training and athletic performance pushed him to learn how to become stronger.
In the pursuit of greater knowledge, he attended college and graduated with a degree in Exercise Science and Wellness. In the following years, he worked in many different athletic, personal training and rehabilitation facilities, to experience and learn as much as possible.
He now writes and coaches others how to become the strongest version of themselves through his writings and coaching programs.