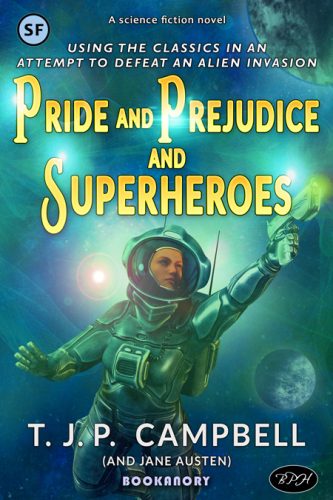 About Pride and Prejudice and Superheroes:
"It is a truth universally acknowledged, that a single woman in possession of a free mind, must be in want of a superhero."
In a parallel universe not so far, far away somewhere in the Multiverse this novel begins in rural England around the turn of the 19th century during the British Regency Period.
Unbeknown to humanity, it is a time of intergalactic jeopardy that threatens not only the fate of freedom in the parallel universe, but as a consequence of the Laws of Physics, the entire Multiverse.
Here we find Lizzy Bennet who has always known she had rather special abilities, but quickly discovers their depth and extent and that they are incredible superpowers. Furthermore, she soon discovers that a select group of people including her father and her four sisters all have differing superpowers of their own.
But where did these superpowers come from? They were a donation from a mysterious group of aliens known as the Equalisers who were believed to be shapeshifters in human form and who can only grant the Superheroes an equal chance of success.
Lizzy and her fellow Superheroes soon find themselves onboard a starship embedded in a sci-fi space opera where they face an approaching starship armada of all-conquering alien invaders.
Can they defeat them?
Find out in T. J. P. Campbell's incredible novel Pride and Prejudice and Superheroes, the first in his English Classics/Space Opera mashup trilogy.
If you enjoy the interweaving of Jane Austen's classic Pride and Prejudice with the action-packed excitement of sci-fi space opera, you're sure to enjoy Pride and Prejudice and Superheroes.
Buy the book:
Author Bio:
T. J. P. Campbell lives in Cambridge, UK. He started as a self-employed full-time author on January 26, 2015; but he has been writing and self-publishing since 2003, and is now proud to have 30 fully fleshed novels completed, 23 of which are sci-fi novels. He writes mainly sci-fi novels for adults and young adults (often cross-over material) His novels include epic quests throughout the universe(s) to what-if historical dystopian futures. He sometimes writes in other genres for variability, such as his writing for younger teens. For example The Londoners series (a sci-fi/fantasy/horror adventurous modern day version of Enid Blyton's Famous Five series). And his YA detective novel The Ultimate Serial Killer. He has tested his writing with blind comparison tests with the most successful authors in his genres and proved himself to be more than favorable.
His writing style is clear and easy to follow, but does not shy away from advanced prose taking advantage of many rhetorical devices. He places a lot of emphasis on drama, mystery, suspense, originality, quirkiness and inimitable characterization. His stories aim to explore the human condition in often extreme and bizarre scenarios and take the reader on a deep journey through their clichéd heart, mind and soul.
He has wide-ranging life experiences which help in his story creation process. For instance, he is an alumnus of seven UK universities with a PhD as his highest qualification. In industry he has worked in Dounreay Nuclear Power Station (in the Prototype Fast Reactor department); in The Inland Revenue Headquarters, London; in a Smart Card software engineering company, Edinburgh; as a school teacher and college lecturer; as a singer-songwriter; as a Draughtsman; as a building site labourer (for only a year); and, okay, might as well add one of his favourite jobs: a road sweeper in Slough High Street for six months. On the sporting side he represented many of his universities at first team football and won many internal five-a-side tournaments. Also a reasonable squash and badminton player. Useless swimmer.