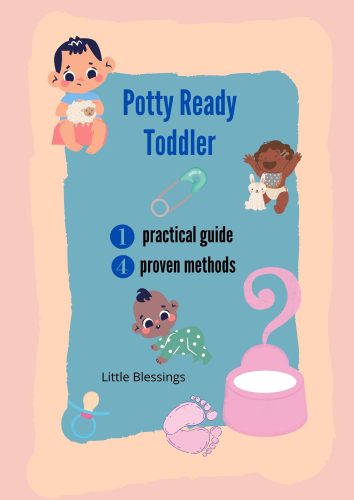 About Potty Ready Toddler:
"Are you ready to through those diapers away?
Is your toddler ready for the great potty?
Potty training is a major developmental milestone…be prepared, be informed, be ready.
Is it time to start potty training?
What are the ""I am ready"" signals of your toddler indicating his/her readiness?
There is no RIGHT age and RIGHT way and RIGHT time to begin potty training. There is NO ""one size fits all""!
Each child is UNIQUE.
This guide will help you to decide which potty-training method suits your toddler best.
What will you discover?
This guide is more than other guides… this book includes 4 proven methods from which you can choose.
Proven methods:
Four, step-by-step, proven methods are explained to assist you and your toddler on the toilet training journey. You will choose the method that will best suite your toddler.
Insight into your child's preference.
Identify your toddler's readiness. Understand how and what potty training toddlers are thinking and experiencing.
Preparing for the potty training.
P P P P PLAN…it will make your task so much easier..
Proven plans are best to follow. ""The proof is in the pudding"" they say!
Do and Don'ts
Do not re-invent the wheel…learn from experts from the word "" Go diapers, go!""
Ready, set, go!"
Buy the book:
Author Bio:
"Little Blessings are what the name says….We perceive children as LITTLE BLESSINGS.
Little Blessings offer Parental coaching and mentoring services as well as products that support these services.
Dr Deborah J Smith is the owner and founder of Little Blessings.
Dr Deborah J Smith is a mom of 4, she acquired her master degree in Educational Guidance and Counselling and PhD in Curriculum and Instructional Design and Development.
She mentors and teaches parents and teachers for the past 25 years.
Dr Smith is passionate about education and children and wishes to instill the same in others."