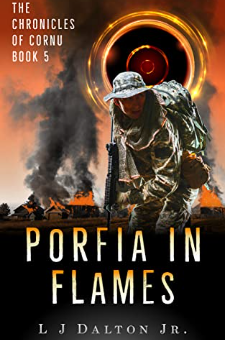 About Porfia in Flames: The Chronicles of Cornu Book 5:
In Centralia, Mike and Catrina continue to establish themselves. They add Illaria, the daughter of Andreas, to their marriage. Soon, Mike's family is growing as Illaria gets pregnant. He continues to introduce new technologies to Nordia. One of the big ones is steamboats paddle wheelers.
In Tantulus, things continue to progress. Koronus is now peaceful, and the King survives his wounds. Finally, Duke Marvon leaves Centralia and arrives in Akari ready to take over Gortyn. Hopefully, without bloodshed.
Porfia is dissolving into a vicious civil war. Both the King and the Dukes strike at each other. Burning villages, killing the villagers, burning crops, and killing the animals they depend on. Finally, the Dukes march on the capital. The outcome is in doubt. The rest of the continent looks on in horror at the bloodshed and destruction.
Who will come out on top? And will the violence somehow spill over into other realms?
Buy the book:
Author Bio:
The Author lives with his wife and cat in Northern New Jersey. He was a naval officer and is currently an I/t Professional